Dianoxyl 10
23 November 2012
No Comment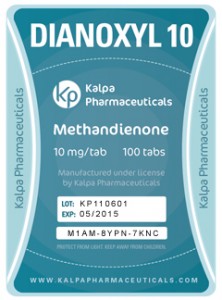 Dianoxyl 10 Kalpa Pharmaceuticals | dbol from kalpa pharmaceuticals | buy dianoxyl 10
Who does not know dbol, one of the most popular oral anabolic steroids? Well Kalpa Pharmaceuticals makes it too and it is no wonder why as everyone wants dbol.
Active substance of Dianoxyl 10 is methandienone which derives from testosterone and has high androgenic properties.
Dianoxyl 10 is used in bulking purposes. It will help build strength, give pumps and will improve recovery of glycogen during workouts.
Stacked with Testosterone Dianoxyl will give user muscles, strength, energy and quicker recovery.
Among the fact that it will retain water for most of users it has a negative impact on liver so it is not recommended to take it longer than 6 weeks and more than 50mg/day
Better to split dosage throughout the day for keep constant blood levels.
Kalpa Pharmaceuticals makes 2 versions of Dianoxyl compound 10mg tabs and 50mg tabs. The choice is yours.

Discuss this on bodybuilding forum
Post Footer automatically generated by Add Post Footer Plugin for wordpress.
Tweet