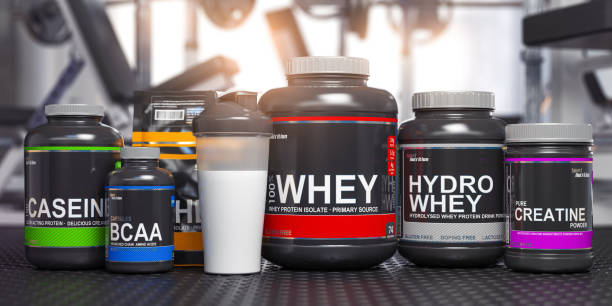 Each beginner asks whether it is good to take Bodybuilding supplements or not. Many are afraid that supplements will influence somehow their health or sexual drive. Well, let's begin with principal supplements types which you need to know at the beginning as the rest you will meet during your bodybuilding journey.
Protein Bodybuilding Supplements.
Protein is what muscles are made of. You need protein to make your muscles grow after your training sessions. If you are not eating at least 2-2,5 grams of protein per 1kg of body weight forget about muscles and good looking body. So you need to weigh yourself and then multiply your weight to 2,5. For example your weight is 85kg; 85X2,5=212,5 this is the amount of protein you need. If you are not getting this amount of protein from food then buy a protein supplement.
Gainers.
A gainer is a bodybuilding supplement usually composed of both high and low glycemic carbohydrates and protein (usually in the form of calcium caseinate, milk and whey protein) and often other nutrients such as certain vitamins and minerals. A lot of carbohydrates is what gainer supplement contains. In order to grow we must consume 4-5grams of carbohydrates per 1kg of bodyweight. If you are not getting this amount of carbs from food then buy a gainer.
Vitamin Supplements.
Vitamins are essential substances that cannot be manufactured by the body. We need small amounts of vitamins for growth and development. Without vitamins the body cannot survive. It does not matter are you beginner or advanced bodybuilder – vitamins are necessary so get your vitamins supplement today.
Read Next Article on Muscle Building Nutrition
Post Footer automatically generated by Add Post Footer Plugin for wordpress.
Tweet