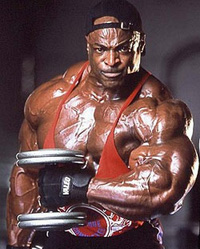 "Ronnie Coleman Confirmed his Comeback" article by Muscles Prod
As heard first on today's episode of MuscleSport Radio, Ronnie Coleman will make his comeback at the 2010 Mr. Olympia. Ronnie Coleman who is 8 times Mr. Olympia winner said that he decided to compete just a few days ago.
Many will ask why he is not competing this year. Well this is simply explained by the fact that Ronnie has many contracts with BSN and his travel commitments will not allow him to prepare for 2009 Mr. Olympia.
Ronnie Coleman Confirmed his Comeback?
Ronnie had a back injury which prevented him to compete in 2008 and lead to 4th place on 2007 Olympia. However Ronnie says this this time off was and is a huge plus in his career and this rest time will only help him to recover and look better.
Ronnie Coleman is the second one who won Mr. Olympia 8 times. The first was Lee Haney but now Ronnie wants to beat his record and he is serious about this.
We wish him good luck and we will see "The King" on the stage next year in Las Vegas.
Post Footer automatically generated by Add Post Footer Plugin for wordpress.