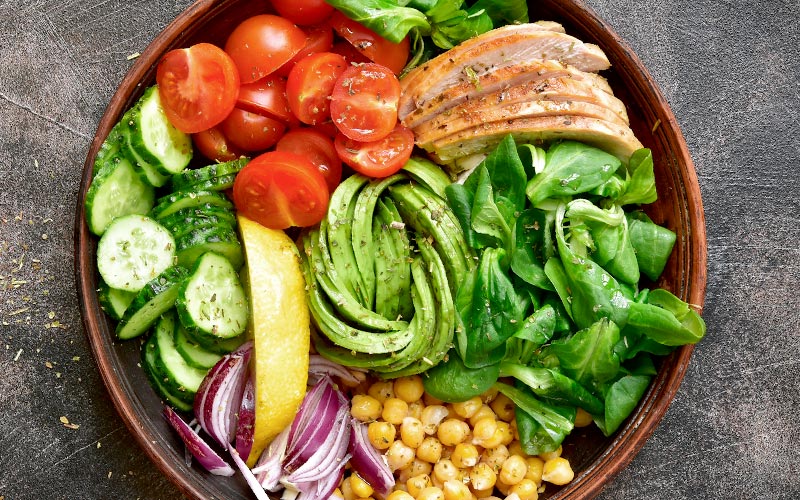 Nutrition for muscle building is not something hard to follow 🙂
Most people when hear about diet and special eating regimen already imagine something complicated I would even say over-complicated in their heads…but it is not so, well at least for us 🙂 Just joking 🙂
Do you remember your first day driving car or motorcycle? How was it? Most you probably thought it is so hard especially for cars with manual gear shifter and what happened after a few training sessions? How is it now? You even don't think about what you do, everything is done on autopilot. Right?
Same is with nutrition. You just have to develop some healthy habits.
Eat at least 3 times per day at the same hour.
Stop eating when you are free of work or after you feel hungry or when you finish writing that e-mail. That is not good and even if you don't feel it at young age with years you will feel the bad impact it had on your health and life.
So first habit to develop is to eat at the right and same time regularly.
For example it can be 7, 12 and 6 so be it and stick to those hours. These are main foods like breakfast, lunch and dinner. First 1-2 weeks it may be hard or may be sometimes you wont even want to eat anyway go and have something like a salad, body will quickly adapt and that is first success!
Drink 2-3 liters of water daily

Without water we cant live more than a few days and water clean body inside and improves metabolism. You sometimes don't have energy just because of lack of water, go and drink 1 glass of clean water.
So second habit is to have with 1 bottle of water so you can see how much you actually drunk during the day.
Drink 2-3 liters of water per day and I don't include here tea or coffee or juice but just water.
If you need a conversion tool here it is: http://gallonstoliters.com/
Example of a health, BREAKFAST, LUNCH and DINNER
Healthy Breakfast for Muscle Building
First thing to do in the morning is to drink a cup of water on empty stomach and only after that you can switch to coffee (if you drink it) with breakfast.
So here are a few options:
Coffee/Tea + Eggs with whole grain bread (forget forever about white bread it is not healthy)
Coffee/ Tea + Oatmeal + Berries
Tea/Coffee + Oatmeal + Nuts
I would add there some multivitamins and better they be natural/organic, I am sure you will find a few companies who does that.
Healthy Lunch for Muscle Building
Main rule to follow is that lunch must contain: lean protein, whole-grain carbohydrates, and fruits and vegetables.
If places near you don't sell full range of products you need feel free to take food from home in special boxes.
Here are a few options:
Peanut butter sandwich made with 2 tablespoons peanut butter on whole-grain bread with a side of carrot sticks, plus a small banana.
Chicken Soup, salad and some fruits and/or vegetables.
Chicken Soup, potatoes with fish and some fruits and/or vegetables.
It is always good to have a 20 min walk after lunch 😉
Healthy Dinner for Muscle Building
Here are a few options to which you can add green or herbal tea for a better sleep.
Roasted potatoes with Salad at your choice
Beef Stew
Salmon with Brown Sugar Glaze
Egg Roll Noodle Bowl
We hope this series or articles were helpful to you, however if you have questions feel free to ask them in bodybuilding forum by clicking here or contact us by clicking here.
Post Footer automatically generated by Add Post Footer Plugin for wordpress.