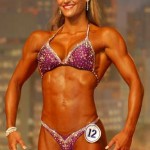 If you haven't hear the name Erin Stern within the last 6 months then you aren't involved in the bodybuilding and physique world. The 2008 Nationals overall figure winner, Erin Stern has literally skyrocketed to the top of the figure world. Included in her fast rise was a appearance in the FLEX magazine swimsuit issue she even graces the cover of this months FLEX magazine with an amazing black and white spread.
Q: Can you tell us about your background Erin? How you got started in fitness and how you started competing. How did you end up getting featured in the recent Flex magazine bikini shoot?
A: I'm a former Division 1 Track & Field Athlete (Go Gators!!!). I competed in the high jump, pentathlon, and heptathlon – but, high jump was my specialty. Since I don't have the build to be a world-class high jumper, and a pin in my take-off foot, I searched for something else to be competitive in. Talking with friends who compete in figure, and flipping through magazines, I decided to do a show! I won the Overall Figure at NPC Nationals in November '08, and met the folks from FLEX there!
Q:You made your debate at the Arnold Classic in 2009 with a fantastic 10th place finish. How nervous were you on stage and what was it like competing at the Arnold?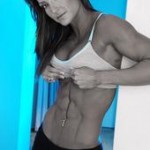 A: The Arnold!! I was so scared!! The stage was surrounded with people, and it was my fourth show! I calmed down a little by the night show, but my pre-judging pictures look like a deer in the headlights!
Q: How many weeks out did you start really dieting and training hard for the Arnold? Was it the traditional 12 weeks?
A: I don't ever diet, per se. I really crank up the intensity of my workouts about one month out, and I deplete carbs one week out.
Q: What was your training like? Was it your typical bodypart split 4-5 day routine or did you focus on specific areas?
A: My training changes every few weeks – but, typically it consists of 6 days in the weight room – legs, back, chest, legs, shoulders, and arms. I did and do focus on my hamstrings, glutes, and calves… as I'm trying to work on them!
Q: Diet wise, what do you feel works best for your body? Very low carb or timed carbohydrates around your workout?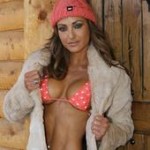 A: I still do a lot of sport-specific training, and I've found that a low-fat, higher carb, and higher protein diet work really well for me. Really, if I want an apple at 10pm, I will eat it. I know on the big scheme of things, it won't affect my efforts and it keeps me happy!
Q:Any words of advice for any models out there that want to get more attention and maybe get a supplement deal like you?
A: If you have tips on how to get a supplement deal, let me know! For models looking to get more attention – get out there and compete! Or, have good pictures taken, and send them out. Don't get discouraged – hard work and perseverance pay off!
Q: What's next for you Erin? What projects are you working on?
A: Well, I am still trying to jump 6′ in the high jump! I'm currently training for the Jacksonville Pro (July 31/Aug 1), and am hoping to qualify for the Figure Olympia. I'm also putting together workout plans for girls who want to compete.. or just look like they compete. Thanks for your time!

Discuss this on bodybuilding forum

==================
We do not promote the use of anabolic steroids without a doctor's prescription. The information we share is for entertainment purposes only.
THIS IS NOT MEDICAL, LEGAL OR ANY OTHER TYPE OF ADVICE. SIDE EFFECTS ARE UNKNOWN SO THEREFORE DEATH AND SERIOUS BODILY INJURY MAY OCCUR. ONLY USE DRUGS, SUPPLEMENTS, OR EXERCISE UNDER YOUR DOCTORS DIRECTION.
==================
Post Footer automatically generated by Add Post Footer Plugin for wordpress.
Tweet