Monster-truck sized wheels.
2 December 2009
2 Comments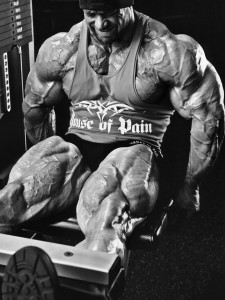 Before this year his highest Olympia placing was eighth and he was twelfth at his previous O, but Branch Warren broke into the big time in September with a stunning second in bodybuilding's ultimate contest. Now the Texas bulldozer takes us back in the day to sweltering summers in MetroFlex Gym when he had 675 pounds on his shoulders and he refused to quit, no matter the pain. Warren shares with you his squatting strategy and a routine that grew his wheels to monster-truck size.
WARREN KNOWS SQUAT
* Make free-weight squats the core of every workout.
* I like the bar a little higher on my traps and I keep a pretty narrow stance, but find the bar placement and foot position that focuses more on your legs and less on your back.
* Keep your head and chest up throughout each rep.
* I go down to below parallel in a controlled fashion, and then, once I bottom out, I just explode like a bullet.
* Practice your form with a light weight until it's automatic. Eventually, you shouldn't need to think about it.
* Vary the reps. Sometimes do sets of 20, sometimes sets of 10 and sometimes pyramid up to 5-6.
* Pain is just part of squatting. You have to learn to block it out and just keep going. Have no fear.
WARREN'S LEG ROUTINE
EXERCISE SETS REPS
Leg extensions 3-4 20-50
Squats 6-7 20-6
Hack squats 3 8-10
or
Leg presses 3 15-20
Walking lunges 3 100 yards
Lying leg curls 4 15-20
Seated leg curls 3 15-20

Discuss this on bodybuilding forum

==================
We do not promote the use of anabolic steroids without a doctor's prescription. The information we share is for entertainment purposes only.
THIS IS NOT MEDICAL, LEGAL OR ANY OTHER TYPE OF ADVICE. SIDE EFFECTS ARE UNKNOWN SO THEREFORE DEATH AND SERIOUS BODILY INJURY MAY OCCUR. ONLY USE DRUGS, SUPPLEMENTS, OR EXERCISE UNDER YOUR DOCTORS DIRECTION.
==================
Post Footer automatically generated by Add Post Footer Plugin for wordpress.
Tweet