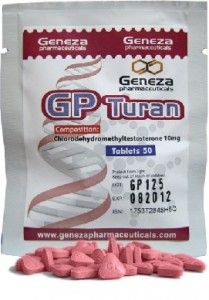 Geneza Pharmaceuticals is a relatively new company on the market but in short period of time their products conquered hearts of many athletes and this due to quality and the wide range of products they manufacture.
GP Turan by Geneza Pharmaceuticals is an oral steroid which contains 10mg of the Chlorodehydromethyltestosterone.
GP Turan (Chlorodehydromethyltestosterone) which was developed in the 1960's when East German's were looking for an edge for their Olympic and competitive athletes.
GP Turan (Turinabol) has limited water retention which will work for hard look.
GP Turan (Turinabol) is 17-alpha alkylated which means it can be toxic to the liver.
GP Turan (Turinabol) can also lower the clotting ability of blood.
GP Turan (Turinabol) is taken when one seeks to achieve weight, strength and qualitative muscle mass.
This profile was created by MusclesProd, if you want to use it on your site it is mandatory to use musclesprod.com as the source.
Post Footer automatically generated by Add Post Footer Plugin for wordpress.
Tweet