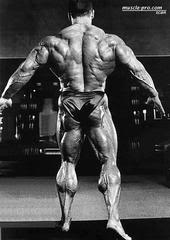 Top Deadlifts.
I experimented and found that by deadlifting in a power rack and only lowering
the bar to my kneecaps, two huge benefits were obvious. One by not pulling the
bar from the floor I was no longer taxing the lower back and legs, and two, I
could now use significantly more resistance. The top deadlift allows you to
attack the entire middle and upper back with bone-crushing tonnage.
Weighted Chins
Chins are a harder and more productive movement because they require precise
balancing. Whatever you do, you should always use a fairly narrow pronated
(palms in toward you, underhand) grip rather than the much more popular wide
overhand grip.
E-Z Curl Rows.
By keeping the back at a 70- degree angle and pulling the bar into the gut, you
will experience a hereto unknown pump and burn in the entire lat. Don't worry
that you won't be able to use as much weight as with an overhand grip on a
straight bar. The return is that your lats will receive a much more thorough
beating and will grow larger.

Discuss this on bodybuilding forum

==================
We do not promote the use of anabolic steroids without a doctor's prescription. The information we share is for entertainment purposes only.
THIS IS NOT MEDICAL, LEGAL OR ANY OTHER TYPE OF ADVICE. SIDE EFFECTS ARE UNKNOWN SO THEREFORE DEATH AND SERIOUS BODILY INJURY MAY OCCUR. ONLY USE DRUGS, SUPPLEMENTS, OR EXERCISE UNDER YOUR DOCTORS DIRECTION.
==================
Post Footer automatically generated by Add Post Footer Plugin for wordpress.
Tweet