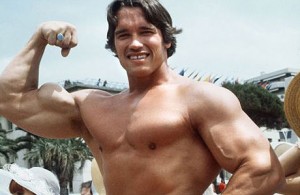 What does it to take to start becoming a bodybuilder.  Well when you once start working out and you notice you are way behind alot of guys at the gym.  Things trigger you to find out more to become better for yourself.   Everyone has there ideal.  So go after the body type that you want and set that as your goal.
When you are ready around 16 years old is the perfect age to start, you do not need steroids untill you are in your late 20s.  Your body already has so much testosterone in it when you are young that the truth is you just have to train right and eat.
Once you get the Training part set, you will have a scheduale, it should be a seperate muscle everyday day. Legs on monday, arms on tuesday, back on wednesday and so on.  But also do you no that your abs can be worked out everyday 6 days a week is perfect with 1 day of rest.  
Eating is the most important part.  You should learn good foods from the bad for example, chicken, protein powder, eggs, lobster, fish steak anything high in protein is great for you.  Depending on your body weight you will have to figure out how much you need to eat to gaina and loose weight.  Visit www.hypermuscles.com they have tools there for you to use to figure all this out and a huge team of experts just waiting to help you.  
Sleeping and rest is the next important part.  8 hrs a night is perfect for helping your body repair, but more is even better, you grow when you eat and sleep.  When you rest thats when you are on your way.
After you have these under control, add in supplements, protein shakes and amino acids are perfect.  When you get to be over 25 you will add in steroids.  www.gbnstore.net they are best.

Discuss this on bodybuilding forum

==================
We do not promote the use of anabolic steroids without a doctor's prescription. The information we share is for entertainment purposes only.
THIS IS NOT MEDICAL, LEGAL OR ANY OTHER TYPE OF ADVICE. SIDE EFFECTS ARE UNKNOWN SO THEREFORE DEATH AND SERIOUS BODILY INJURY MAY OCCUR. ONLY USE DRUGS, SUPPLEMENTS, OR EXERCISE UNDER YOUR DOCTORS DIRECTION.
==================
Post Footer automatically generated by Add Post Footer Plugin for wordpress.
Tweet