BULKING WORKOUT ROUTINE FROM HUGE TOM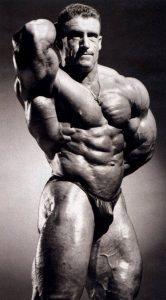 Always warm up on treadmill for 10-15 minute at moderate speed. Start with smaller weight and increase it with each set. Reps range would be between 8 and 12. Rest between sets 2 minutes.
Day 1 CHEST
Barbell Bench Press 4 sets
Incline Bench Press 3 sets
Dumbbell Flyes 3 sets
BICEPS
Standing Biceps Barbell Curl 4 sets
Seated Biceps Dumbbell Curls
Scott Bench Dumbbell Biceps Curls
ABS
Day 2 LEGS
Squats 4 sets
Seated Legs Extension 3 sets
Calf raises 6 sets
SHOULDERS
Arnold Dumbbell Press 4 sets
Dumbbell Lateral Raise 3 sets
ABS
Day 3 BACK
Lat Pull-Downs 4 sets
Bent-Over Barbell Rows 4 sets
Deadlifts 3 sets
TRICEPS
Rope Triceps PressDown 4 sets
Close Grip Bench Press 4 sets
Dips or Cable Rope Overhead Triceps Extension 3 sets
ABS
For basic exercises choose the weight in such a way so last set you will do 6 reps and last 2 reps be hard.
Feel free to keep a cycle log on a bodybuilding forum page, like this one: www.hypermuscles.com
Post Footer automatically generated by Add Post Footer Plugin for wordpress.
Tweet