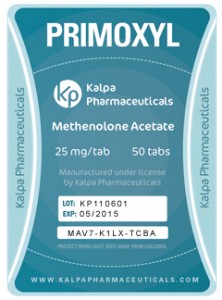 Primoxyl Kalpa Pharmaceuticals.
Primoxyl is trade name for primobolan tabs.
Active substance in these tabs is: Methenolone Acetate at 25mg/tab.
Primo tabs are considered one of the safest oral anabolic steroids because they are not 17A which means they wont affect liver so much like any other orals.
For full profile of Primoxyl Tabs follow this link: Primoxyl Tabs Profile
Post Footer automatically generated by Add Post Footer Plugin for wordpress.