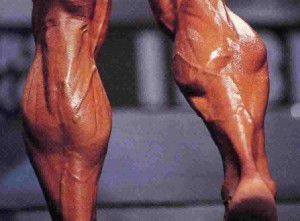 By MusclesProd
Do you know those guys who train only their biceps or chest? Or triceps and abs? These are those guys with huge arms and underdeveloped calves or quads. This is not good brothers. We as bodybuilders must be well developed everywhere. I mean each muscle and body part.
For sure the most important part is our mind. We need to be intelligent guys and not like those pumped stupid idiods who do not know how to say two words, who do not know what means to respect their parents, old people, girls or womens, who come to gym just to look in mirror to talk, to chat through sms to show other their biceps (after steroids cycle after cycle) they even do not know how to cycle steroids however they are recommending this to other! Bullshit! Bullshit! and again Bullshit!
Do not be friends with such people if they do not want to change their mind. Thy must understand that laziness is what needs to be judged. Do not think that just taking "magic pills" will make you huge and good developed.
It's all about training guys, it's in your mind. Train your mind, be a man be a gentleman and then everything else will come.
Why I associated this with calves training? Because many "bodybuilders" leave their "mind training" as they do with calves. Leave it for other times.
Do not think that just being huge means respect to you. For what respect? Just because you are going to the gym 3-5 times per week and sleep a lot? And that is all? But all these things you are doing for yourself and to be proud of yourself. Do something for people, help them, make them realize their importance. That is to be appreciated.
When those around you will see what a man is inside you than they will appreaciate bodybuilders too. Other way many think that bodybuilders are just stupid machines. But that is not so. Just remember Stever Reeves, Sergio Oliva and other great man and bodybuilders.
Remember the first is to be a man and then bodybuilder. The life will pass what will you leave after you?
(C)MusclesProd.Com
Using this article without source indication is not permitted.

© MusclesProd.Com 2010. You may copy and use this article only with source indication (www.musclesprod.com)

Discuss this on bodybuilding forum

==================
We do not promote the use of anabolic steroids without a doctor's prescription. The information we share is for entertainment purposes only.
THIS IS NOT MEDICAL, LEGAL OR ANY OTHER TYPE OF ADVICE. SIDE EFFECTS ARE UNKNOWN SO THEREFORE DEATH AND SERIOUS BODILY INJURY MAY OCCUR. ONLY USE DRUGS, SUPPLEMENTS, OR EXERCISE UNDER YOUR DOCTORS DIRECTION.
==================
Post Footer automatically generated by Add Post Footer Plugin for wordpress.
Tweet