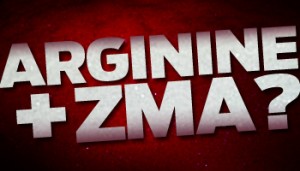 Is it best to take them alone or can they be paired up?
Arginine and ZMA. Each of these two powerful bodybuilding supplements has been found to be most effective when taken alone, yet each is also best taken at night, before bed. Sounds like a conundrum worthy of Weider Publications Senior Science Editor Jim Stoppani.
Says Dr. Stoppani, FLEX recommends that you take a minimum of 3 grams to as much as 10 g of arginine before workouts. Arginine will increase levels of nitric oxide, which will enhance blood flow to muscles during a workout. This gives you more energy for training, as the greater blood flow delivers more oxygen and nutrients to muscles. It also enhances growth–greater blood flow delivers more anabolic hormones, such as growth hormone and testosterone, to muscles. In addition, greater blood flow to muscles boosts your pump.
Arginine also has been shown to raise GH levels. It takes about 30-45 minutes for arginine to be absorbed by your body and go into action, so you'll want to take it about 30-45 minutes before your workouts. And, yes, arginine tends to be better absorbed by the body when it is taken without other food. For scheduling around workouts, take an arginine/NO booster 45 minutes before gym time. Then, wait until you get to the gym to down your preworkout protein shake and carbs. This will give you the advantages of the arginine supplement and the protein/carb shake without them interfering with each other.

Discuss this on bodybuilding forum

==================
We do not promote the use of anabolic steroids without a doctor's prescription. The information we share is for entertainment purposes only.
THIS IS NOT MEDICAL, LEGAL OR ANY OTHER TYPE OF ADVICE. SIDE EFFECTS ARE UNKNOWN SO THEREFORE DEATH AND SERIOUS BODILY INJURY MAY OCCUR. ONLY USE DRUGS, SUPPLEMENTS, OR EXERCISE UNDER YOUR DOCTORS DIRECTION.
==================
Post Footer automatically generated by Add Post Footer Plugin for wordpress.
Tweet