GenShi Labs Cuts stack 300 and 750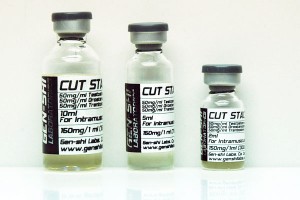 Genshi Labs Cut stacks.  A cut between Test P,Masteron and Tren Ace.
Cut Stack 300 – 2ml Vial 300mg / 2ml
Cut Stack 750 – 5ml vial 750mg / 5ml
Dosage 150mg /ml
Genshi labs Is a Pham Grade lab.  This product is a great cut stack, ahd should be run from 4 to 12 weeks. 150 to 300mg injections should be taken every other day.   As with any steroids i suggest starting at the lower dose to see how well your body takes to it.
Side effects: Acne, Hairloss, liver and kidney, gyno estrogen and progesterone side effects.   You should keep on hand Liv52 and Milk Thistle to help with liver and kidney before, during and after cycles.  Nolvadex, arimidex and or Letro should all be kept to combat both estrogen and progesterone side effects. 
After this strong cycle you will need to run pct Nolva and Clomid. 
You can find doseage for pct cycles at www.Hypermuscles.con  aswell as any information on cycles or side effects.  Any questions you want to ask will be answerd and there is a forum data base with plenty of information for you to learn.
Legit supplier of Genshi labs comes from www.gbnstore.net you can find there products aswell as your liv52 and milk thistle and your pct meds nolvadex, letro, hgh. Anything you need.

Discuss this on bodybuilding forum

==================
We do not promote the use of anabolic steroids without a doctor's prescription. The information we share is for entertainment purposes only.
THIS IS NOT MEDICAL, LEGAL OR ANY OTHER TYPE OF ADVICE. SIDE EFFECTS ARE UNKNOWN SO THEREFORE DEATH AND SERIOUS BODILY INJURY MAY OCCUR. ONLY USE DRUGS, SUPPLEMENTS, OR EXERCISE UNDER YOUR DOCTORS DIRECTION.
==================
Post Footer automatically generated by Add Post Footer Plugin for wordpress.
Tweet