Arnold Schwarzenegger, biography, pictures and videos.
23 January 2010
8 Comments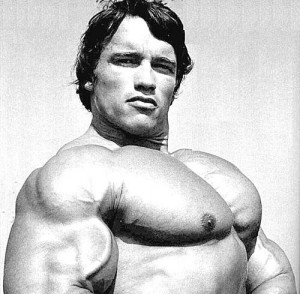 Arnold Alois Schwarzenegger was born on July 30, 1947, the second son of Gustav and Aurelia Schwarzenegger. He was raised, along with older brother Meinhard, in the tiny village of Thal, just outside of Graz, Austria. Schwarzenegger's father, Gustav, was the local police chief, and the family lived above the police station where Gustav worked. The Schwarzenegger home was a humble one. In fact, they did not have indoor plumbing until Arnold was a teenager. This was not uncommon at the time, however, since families all over Europe were just beginning to recover from the effects of World War II (1939–45).
Before joining the police force, Gustav Schwarzenegger was a military officer, and he ran his household in strict military fashion. Both Arnold and Meinhard were required to get up before sunrise to tend to their chores. After chores came a rigorous exercise routine, followed by breakfast. Gustav also instilled a love of sports in his sons. Meinhard, who died when he was twenty-three years old in a car accident, was a boxing champion. Arnold showed promise as a soccer player. It was while performing exercises to strengthen his legs for soccer that Schwarzenegger turned to the sport that would eventually make him famous: bodybuilding.
Arnold Schwarzenegger pursued weightlifting and bodybuilding with a passion. He trained for hours a day, both at a local gym and at home where he set up a training area in a room that had no heat. He also studied anatomy and nutrition to understand how to become physically fit. His parents worried that he was obsessed with training, but Schwarzenegger had his eyes on a goal; that goal was to leave his little village behind and become a success in America.
"I learned something from all these years of lifting and training hard…. What I learned was that we are always stronger than we know."
Schwarzenegger first gained fame as a bodybuilder. One of the first competitions he won was Junior Mr. Europe. He would go on to compete in and win many bodybuilding (as well as some powerlifting) contests, including 4 NABBA Mr. Universe wins and 7 Mr. Olympia wins, a record which would remain until Lee Haney won his eighth straight Mr. Olympia title in 1991. In 1967 Schwarzenegger won the Munich stone lifting contest in which a stone weighing 508 German pounds, approximately 560 English pounds, is lifted between the legs while standing on two foot rests. Arnold broke the existing record, winning the contest. Schwarzenegger's goal was to become the greatest bodybuilder in the world, which meant becoming Mr. Olympia. His first attempt was in 1969 where he lost to three-time champion Sergio Oliva. However Schwarzenegger came back in 1970 and convincingly won the competition. Schwarzenegger continued to dominate in the 1971, 1972, and 1973 competions, winning the Olympia with no real competition. In 1974, Schwarzenegger was once again in top form and won the title for the fifth consecutive time opposite Lou Ferrigno, who was the first possible threat to Schwarzenegger's reign since Oliva. After the 1974 Olympia, Schwarzenegger announced his retirement from professional bodybuilding. However, George Butler and Charles Gaines convinced him to compete one more time so they could make the bodybuilding documentary called Pumping Iron. Schwarzenegger had only three months to prepare for the competition after losing significant weight to appear in the film Stay Hungry with Jeff Bridges. Ferrigno proved to not be a threat and a lighter than usual Schwarzenegger convincingly won the 1975 Olympia. After being declared Mr. Olympia for a sixth consecutive time Schwarzenegger once again retired from competition.
However, Schwarzenegger came out of retirement once more to compete in the 1980 Mr. Olympia. Mike Mentzer was defeated in this competition, despite being on his best ever form (a fact which caused him to leave the world of bodybuilding). Schwarzenegger was a late entry and won with only eight weeks of preparation. At the time, this lead to some controversy, some claiming that the Olympia had become a "popularity contest" rather than an objectivly judged competition. Schwarzenegger is considered among the most important figures in the history of bodybuilding, and his legacy is commemorated in the Arnold Classic annual bodybuilding competition. Schwarzenegger has remained a prominent face in the bodybuilding sport long after his retirement, in part due to his ownership of gyms and fitness magazines. He has presided over numerous contests and awards shows. For many years he wrote a monthly column for the bodybuilding magazines Muscle & Fitness and Flex. Shortly after being elected Governor, he was appointed executive editor of both magazines in a largely symbolic capacity. The magazines agreed to donate $250,000 a year to the Governor's various physical fitness initiatives. The magazine MuscleMag International has a monthly two page article on him and refers to him as "The King". Schwarzenegger's first political appointment was to the President's Council on Physical Fitness and Sports, on which he served from 1990 to 1993. He was nominated by George H. W. Bush, who called him Conan the Republican.
Schwarzenegger has reportedly won his first of seven Mr. Olympia title in 1970 with the help of Dianabol. He has admitted to using performance-enhancing anabolic steroids while they were legal, writing in 1977 that "steroids were helpful to me in maintaining muscle size while on a strict diet in preparation for a contest. I did not use them for muscle growth, but rather for muscle maintenance when cutting up." However, some bodybuilders who used the same steroid cocktails as Schwarzenegger in the 1970s dispute the notion that they were used merely for "muscle maintenance". Even Schwarzenegger has called the drugs "tissue building." In 1999, Schwarzenegger sued Dr. Willi Heepe, a German doctor who publicly predicted an early death for the bodybuilder based on a link between steroid use and later heart problems. Because the doctor had never examined him personally, Schwarzenegger collected a DM 20,000 ($12,000 USD) libel judgment against him in a German court. In 1999 Schwarzenegger also sued and settled with Globe Magazine, a U.S. tabloid which had made similar predictions about the bodybuilder's future health. As late as 1996, a year before open heart surgery to replace an aortic valve, Schwarzenegger publicly defended his use of anabolic steroids during his bodybuilding career. Schwarzenegger was born with a bicuspid aortic valve; a normal aorta has three leaflets. According to a spokesman, Schwarzenegger has not used anabolic steroids since 1990 when they were made illegal.
Business Career
By the age of 22, Schwarzenegger was a millionaire, well before his career in Hollywood. His financial independence came from a series of successful business ventures and investments:
Bricklaying Business
In 1968, Schwarzenegger and fellow bodybuilder Franco Columbu started a bricklaying business. The business flourished both because of the pair's marketing savvy and increased demand following a major Los Angeles earthquake in 1971
Mail Order Business
Schwarzenegger and Columbu used profits from their bricklaying venture to start a mail order business, selling bodybuilding and fitness-related equipment and instructional tapes.
Real Estate
Schwarzenegger rolled profits from the mail order business and his bodybuilding competition winnings into his first real estate venture: an apartment building he purchased for $10,000. He would go on to invest in a number of real estate holding companies.
Planet Hollywood
Arnold Schwarzenegger was a founding "celebrity investor" in the Planet Hollywood chain of international theme restaurants (modeled after the Hard Rock Cafe) along with Bruce Willis, Sylvester Stallone and Demi Moore. Schwarzenegger severed his financial ties with the business in 2000.
Competition History of the Austrian Oak
* 1963 Contest in Graz, Austria, at Steirer Hof Hotel – 2nd place
* 1965 Junior Mr. Europe in Stoccarda, Germany – 1st place
* 1966 Mr. Europe – 1st amatorial
* 1966 Best Built Man in Europe – 1st place
* 1966 NABBA Mr. Universe in London – 2nd, tall class amatorial
* 1967 NABBA Mr. Universe in London – 1st, tall class amatorial and abs.
* 1968 NABBA Mr. Universe in London – 1st, tall class pro and absolute
* 1968 IFBB Mr. Universe in Miami, Florida – 1st place, tall class
* 1968 IFBB Mr. International in Tijuana, Mexico – 1st place, tall class & abs.)
* 1969 IFBB Mr. Universe in New York City – 1st place
* 1969 IFBB Mr. Olympia in New York City – 2nd place
* 1969 NABBA Mr. Universe in London – 1st place, tall class pro and absolute)
* 1969 Mr. Europe ad Essen, Germany – 1st place, tall class pro and absolute)
* 1970 NABBA Mr. Universe in London – 1st place, tall class pro and absolute)
* 1970 AAU Pro Mr. World in Columbus, Ohio – 1st place
* 1970 IFBB Mr. Olympia in New York City – 1st place
* 1971 IFBB Mr. Olympia in Parigi – 1st place
* 1972 IFBB Mr. Olympia in Essen – 1st place
* 1973 IFBB Mr. Olympia in New York City – 1st place
* 1974 IFBB Mr. Olympia in New York City – 1st place
* 1975 IFBB Mr. Olympia in Pretoria, South Africa – 1st place
* 1980 IFBB Mr. Olympia in Sidney, Australia – 1st place
Arnold Schwarzenegger picture gallery

Arnold Schwarzenegger videos gallery
Arnold Schwarzenegger in 1970s

Arnold Schwarzenegger Mr. Olympia 1975

Arnold Schwarzenegger training

Arnold Schwarzenegger clips from Pumping Iron and other


Discuss this on bodybuilding forum

==================
We do not promote the use of anabolic steroids without a doctor's prescription. The information we share is for entertainment purposes only.
THIS IS NOT MEDICAL, LEGAL OR ANY OTHER TYPE OF ADVICE. SIDE EFFECTS ARE UNKNOWN SO THEREFORE DEATH AND SERIOUS BODILY INJURY MAY OCCUR. ONLY USE DRUGS, SUPPLEMENTS, OR EXERCISE UNDER YOUR DOCTORS DIRECTION.
==================
Post Footer automatically generated by Add Post Footer Plugin for wordpress.
Tweet