Danbury Detectives Started 'Roid Investigation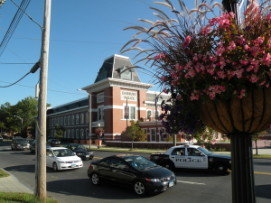 The Danbury connection to the federal indictment of four men for distributing steroids in the Danbury area is the Danbury Police Department's Detective Division got the first leads.
"It has nothing to do with the schools," said Lt. James Fisher, who heads the department's Special Investigation Division. He said the school angle and the student angle is the wrong direction. "It is individuals out in the community."
Fisher said that perhaps some of the people using steroids supplied by this drug ring started in high school, but he said most of the people involved were well past high school age. The investigation started approximately five years ago, and it didn't revolve around any school or any team. It was pretty much people working out in gyms, and the ring distributed either steroids or marijuana from Danbury north to New Milford and east into Oxford.
"It was the whole region," Fisher said. "Time and greed were on our side."
Fisher said he couldn't remember the exact tip that started the investigation, but he said what the detectives do is gather information from many sources (concerned citizens, people who are arrested, tip lines,) and they have long memories.
"That's our business," Fisher said. He said when the defendants move through court, more information will be revealed about how large this drug distribution ring really is.
Danbury High School Athletic Director Dan Scavone is adamant in his opinion that whatever connection the arrests have to the Danbury community, they don't involve Danbury High School athletic programs or any individual student-athletes.
"I just heard that somebody was arrested for selling steroids to an undercover police officer," Scavone said.  "I have no knowledge of any involvement with any of our kids, nor do I suspect it."
Scavone explained that in his career, he has seen a decline in the popularity of anabolic steroids.
"The interest in steroids has diminished over the years," Scavone said.  "I don't think it's an 'in' thing anymore amongst young people; you don't hear much about it at that age group anymore.  It's a topic in professional sports, but that's it."
Danbury Superintendent of Schools Sal Pascarella echoed Scavone's sentiment.
"I can tell you unequivocally that was totally out of the blue for us here," Pascarella said of the arrest.  "We had no knowledge of anything about that."
He went on to express confidence in the Danbury High School athletic department staff.
 "[Our athletic director, Dan Scavone] is trained in fitness and diet, and his observations confirm that he doesn't see any issues that would cause us to be concerned, nor as he received any complaints from parents, coaches, the community, or police," Pascarella said.  "Our coaches are trained in many things with injuries, diets, as well as drugs."
The indictment itself, released at 12:57 p.m. March 9 in U.S. District Court in Hartford, talks about Mark Mansa, of Bethel, and three other men forming a conspiracy to distribute more than 100 kilograms of marijuana, and in a separate count a conspiracy to distribute and possess anabolic steroids. One, Glenn Wagner, is from Brookfield.
The report said the conspiracy used land in Bethel and Brookfield to facilitate or commit these crimes, and the government plans to seek title to the property.
The indictment said Mark Mansa, Kevin Lubic, Glenn Wagner and Richard Sciaccetano were indicted. The charges include conspiracy to possess and distribute narcotics. Possession with intent to distribute marijuana. Possession with intent to distribute steroids. Possession of a firearm in furtherance of a drug trafficking offence, and unlawful possession of a firearm.
The indictment said the conspirators worked together from 2007 to 2011

Discuss this on bodybuilding forum

==================
We do not promote the use of anabolic steroids without a doctor's prescription. The information we share is for entertainment purposes only.
THIS IS NOT MEDICAL, LEGAL OR ANY OTHER TYPE OF ADVICE. SIDE EFFECTS ARE UNKNOWN SO THEREFORE DEATH AND SERIOUS BODILY INJURY MAY OCCUR. ONLY USE DRUGS, SUPPLEMENTS, OR EXERCISE UNDER YOUR DOCTORS DIRECTION.
==================
Post Footer automatically generated by Add Post Footer Plugin for wordpress.
Tweet