2011 IFBB Pro World Masters – Predictions and Review
10 December 2011
One Comment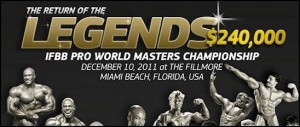 The 2011 IFBB Pro World Masters Champions was billed as the 'Return of the Legends' in which the bodybuilding community and the world would see some of the biggest names in bodybuilding return to the stage for an impressive $240,000 in prize money ($220,000 for mens bodybuilding, and $20,00 for women's bikini).
While that was a great idea, alas, it was not meant to be. Some of the legends will be there, but not on stage. Shawn Ray has elected to emcee the contest, while Ronnie Coleman will be there in the audience, as well as Lou Ferrigno.
Other bodybuilders that are coming to the event will be Larry Scott, the first Mr. Olympia champion, who will be receiving a Lifetime Achievement Award . The Evolution of Bodybuilding, a new documentary movie that Shawn Ray is the host of, will premiere a trailer here at the contest, and quite a few other surprises and guests will be arriving to Miami Beach.
The IFBB Pro World's Mens Bodybuilding contest has 13 competitors that will grace the stage. The top prize is $100,000, so someone is going to get an early Christmas present.
So who is going to finish on top here at the Fillmore Auditorium in Miami Beach. Lets take a look at the competitors (in alphabetical order).
Troy Alves – Troy has had a great year, with two pro IFBB wins, but did not place in the top 15 at the 2011 Olympia in September. He is coming back at this show to redeem himself, and while others perhaps are not taking this contest as seriously as they should, Troy does, and expects to be in the top three, and from the pictures a week out from the contest, perhaps may even surprise Dexter or Toney here in Miami beach.
Lee Apperson – Lee is coming here to just enjoy himself, for the love of the sport of bodybuilding. Lee has never placed in the top 15 at any IFBB Pro Men's Open contest (not including Master's), but considering that he won his pro card at the 1998 NPC Master's Nationals, that is understandable.
Samir Bannout – Wow, a true legend competing on the stage. At 57 years of age, getting back on the bodybuilding stage should be interesting for Samir, since he last competed in 1996 at the Master's Olympia (yes, they had a Master's Olympia back then). No one expect Samir to do well, but we all have the upmost respect to see one of the true champions (1983 Mr. Olympia winner) return to the stage. This is what the contest was originally planned for. If Samir can come back in somewhat decent shape, then he deserves all the respect for trying.
Andreas Cahling – another old timer, 60 years old, is coming to compete or just make a presence here. Andreas last competed in 1993, not placing in the top 15 at any of the contests then. He started in 1976 as the winner of the Mr. Venice Beach contest, while his only IFBB pro win was in 1980 at the overall Mr. International contest. I
Darrem Charles – Darrem placed well in Florida at the Orlando Show of Champions in 2009 (3rd place), his home state, but you never know what kind of Darrem will be showing up at a contest. 2010 was not kind to Darrem (placing 9th and 10th in two IFBB contests), and in 2011, Darrem has not competed at all. However, with the prize money at this contest, Darrem has been preparing and hoping to make the top five here, which may prove difficult.
Roland Cziurlock – Roland has not competed since 2001, and has not been in the top 5 in any contest since 1996. Coming from Europe, it will be interesting if he will be in shape or just coming along to check out the scene in Miami Beach.
Toney Freeman – Toney is gunning for that top prize, and look for Toney to be in great shape here. Considered one of the front runners, the X Man is looking at a top three spot, and perhaps even winning the contest if Dexter or Troy are 'off'. Toney just placed 7th at the 2011 Olympia (Dexter placed 6th), so it will definitely be a battle between them.
Stan Frydrych – Stan last competed in 2005, and also has never placed in the top 15 of any IFBB Pro Open Men's contest. Like Roland, just might be here enjoy Miami Beach, and some of the throngs of media publicity that this contest will get.
Pavol Jablonický – At 48 years, Pavol has a small chance of making the top six, but it doesn't look like it will happen. Pavol's last contest was the 2011 NY Pro, which he did not make the top 15, and before that the 2009 Sacramento Pro (which he placed 15th). Pavol is out here to have fun, and enjoys being on that stage, perhaps one last time.
Dexter Jackson – Front runner of the contest, and former Mr. Olympia champion, this is Dexter's contest. Dexter just placed 6th at the 2011 Olympia, and usually keeps in shape almost all of the time, and after seeing Dexter in Los Angeles at the NPC Excalibur a week before this contest, looks like no one is going to beat Dexter. Dexter is hungry for this win, and is determined not to let any competitor take one over him (like when he lost the 2011 Flex Championships at the start of the year). 95% of all Getbig members agree that Dexter will win this contest easily.
Tricky Jackson – Weight under 200 pounds, Tricky is here to have some fun, and rival Toney with a great posing routine to rock the house. Tricky usually comes in shape, but usually competes only in the 202 pounds and under contests, where he does well.
Edward Nunn – Ed Nunn may just surprise us all, gunning for a top three spot here in Miami Beach. And he can do it, placing 3rd at the Phoenix Pro, and winning the Tijuana Pro contest earlier this year (although he placed a respectful 12th at the 2011 Olympia). Ed should be a great shape, and will definitely be in the top five here .
Bill Wilmore – Bill has not competed this year, but when Bill is focused and in the zone, he can place very well, and that is what just may happen here, with Bill pushing for the top 5. Last year, Bill placed 3rd in the Europe Supershow and did not place at the 2010 Olympia. Reports are that Bill is going to surprise us, we will see.
Ron Avidan's Predictions
1. Dexter Jackson
2. Troy Alves
3. Toney Freeman
4. Bill Wilmore
5. Ed Nunn
Issac Hind's Prediction
1. Dexter Jackson
2. Toney Freeman
3. Troy Alves
4. Ed Nunn
5. Bill Willmore
Source: getbig.com

Discuss this on bodybuilding forum

==================
We do not promote the use of anabolic steroids without a doctor's prescription. The information we share is for entertainment purposes only.
THIS IS NOT MEDICAL, LEGAL OR ANY OTHER TYPE OF ADVICE. SIDE EFFECTS ARE UNKNOWN SO THEREFORE DEATH AND SERIOUS BODILY INJURY MAY OCCUR. ONLY USE DRUGS, SUPPLEMENTS, OR EXERCISE UNDER YOUR DOCTORS DIRECTION.
==================
Post Footer automatically generated by Add Post Footer Plugin for wordpress.
Tweet