My take on Anabolic Steroids being Dangerous?
31 January 2011
No Comment
When i first started thinking about taking anabolic steroids, i was 16 yrs of age.  I decided to go online and read about them, which ones would rip me up, which ones would bulk me up.  I wanted to look like Stallone, and Van Dame.  When i started to read, i realised that it was not time for me to use, but i noticed that i could get 15 tabs of Dianabol for free.  So i ended up doing that.  After a workout i would take 2 dianabol 20mgs for a week.   In just that one week i noticed that i could lift alot more and i seen gains in just  a days.  That was mind blowing to me, i actually was just starting out and not as strong, but i couldnt do 25 push ups straight, but on the 7th day of dianabol i could push out 150 to 175 push ups slow and clean.   That is just how good it worked.  I put on about 2lbs of mass but it was all in water weight i pissed it out a week later, nothing much to be proud about.     I continued to train natural untill i was 20yrs old.  And after 4 years of reading and getting a cycle together i not only heard the facts, but i heard that they would kill me????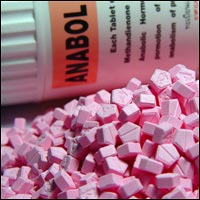 After hearing these drugs are going to kill me no matter what, i actually heard an ex bodyubuilder say "take one pill and its going to grow into cancer"  but this guy admitted to abuseing the anabolics and he got what he got for ABUSE.
Take this for what it is worth.  Doctors will prescribe women who want to turn them self male, Injections of Testosterone and alot of it.  You are going to tell me that me a grown man, cant add test to my diet for 12 weeks to add some muscle, but a women can turn her self completly into a man?  That aint dangerous?   Why will she not get the side effects that a man would?  ANSWER: ITS A LIE.   I hope this helps some of you understand what bulls*it you may be hearing.   Dont hurt yourself and take to much but just start low and build your self up.
Work out and diet, you might decide you dont want to take steroids after you see what results you can get just by fixing your diet a little bit.  Train hard, push your self with the weights you can lift, tear your muscles apart so that you can lift those 20lb weights make them feel like 5lb weights.  It happens, when you train hard.  And let me tell you this if you take steroids and do not have your diet and workouts in place then you wont see results and that is the HONEST TRUTH.  You get the results from pushing yourself hard because they repair more of what your normal body couldnt.
When you start, always start with one steroid, Testosterone will come to mind. And you will hear it alot.  Stay safe and stay simple.  Most importantly dont forget to find a safe source.

Discuss this on bodybuilding forum

==================
We do not promote the use of anabolic steroids without a doctor's prescription. The information we share is for entertainment purposes only.
THIS IS NOT MEDICAL, LEGAL OR ANY OTHER TYPE OF ADVICE. SIDE EFFECTS ARE UNKNOWN SO THEREFORE DEATH AND SERIOUS BODILY INJURY MAY OCCUR. ONLY USE DRUGS, SUPPLEMENTS, OR EXERCISE UNDER YOUR DOCTORS DIRECTION.
==================
Post Footer automatically generated by Add Post Footer Plugin for wordpress.
Tweet