Lyka labs
16 November 2010
No Comment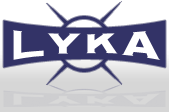 Lyka Labs Limited is committed to creating a better tomorrow for India. Maintaining a core competency in Lyophilization, allows Lyka Labs to supply Freeze Dried Drugs in sufficient quantities with the right quality. Lyka strives to manage this business in an ethical and transparent manner.

Discuss this on bodybuilding forum
Post Footer automatically generated by Add Post Footer Plugin for wordpress.
Tweet