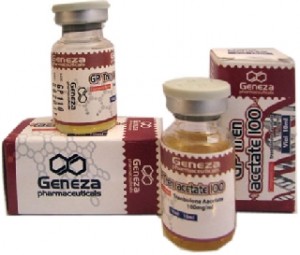 Geneza Pharmaceuticals is a relatively new company on the market but in short period of time their products conquered hearts of many athletes and this due to quality and the wide range of products they manufacture.
GP Tren Acetate 100 by Geneza Pharmaceuticals is an injectable steroid which contains 100mg per 1 ml in 10ml vial the Trenbolone Acetate.
GP Tren Acetate 100 is a powerful injectable steroid and very popular among those who used it.
GP Tren Acetate 100 is well-maintainable and quality gains.
GP Tren Acetate 100 – no estrogen formation, so no fat and water retention
GP Tren Acetate 100 stack with stanozolol or Primo to reduce body-fat.
This profile was created by MusclesProd, if you want to use it on your site it is mandatory to use musclesprod.com as the source.
Post Footer automatically generated by Add Post Footer Plugin for wordpress.
Tweet