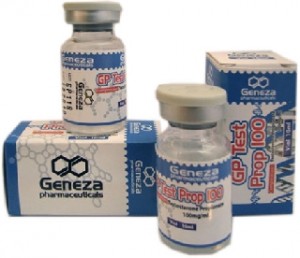 Geneza Pharmaceuticals is a relatively new company on the market but in short period of time their products conquered hearts of many athletes and this due to quality and the wide range of products they manufacture.
GP Test Prop 100 by Geneza Pharmaceuticals is injectable steroid which contains 100mg per 1 ml in 10ml vial the Testosterone Propionate.
Testosterone is main androgen in body thus best mass and strength builder.
GP Test Prop 100 (Testosterone Propionate) compared to enanthate and cypionate GP Prop 100 is short ester and is released fast which means it is needed to inject it more often – every other day for example.
GP Test Prop 100 (Testosterone Propionate) will not retain as much water as cypionate or enanthate and thus is used by some for cutting cycles.
GP Test Prop 100 can be use for bulking purposes too by stacking it with boldenone and/or Methandrostenolone.
This profile was created by MusclesProd, if you want to use it on your site it is mandatory to use musclesprod.com as the source.
Post Footer automatically generated by Add Post Footer Plugin for wordpress.
Tweet