Growth Hormone and Advanced Steroid Bodybuilding Cycle.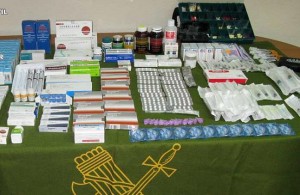 To  begin i would like to start off by saying this is mainly for Bodybuilders and advanced people in training.  A cycle of this sort will be run for a long 20 weeks and remember begginers only run 12 week cycle when they are beggining with injections and some even start with 4 to 6 week oral only cycles.
The PCT i am including is only going to be run with Clomid. 
PCT- 4 weeks – 28 days, 100mgs of clomid every day.  If you want to include Nolva you can add it in with 40mg a day for 4 weeks aswell.
To find out more about the Steroid in this cycle please visit www.Hypermuscles.com  A community to learn and find out everything you ever need to no. 
Cycle
Week 1 – 20 HGH 4 IU Everyday.
Week 1 – 12 Sustanon 250 EOD – Every other day.
Week 1- 12 Equipose 500mg Weekly.
Week 9 – 15 Winstrol 50mg ED Every Day.
To find these products from a safe source.  Legit most importantly visit www.gbnstore.net

Discuss this on bodybuilding forum

==================
We do not promote the use of anabolic steroids without a doctor's prescription. The information we share is for entertainment purposes only.
THIS IS NOT MEDICAL, LEGAL OR ANY OTHER TYPE OF ADVICE. SIDE EFFECTS ARE UNKNOWN SO THEREFORE DEATH AND SERIOUS BODILY INJURY MAY OCCUR. ONLY USE DRUGS, SUPPLEMENTS, OR EXERCISE UNDER YOUR DOCTORS DIRECTION.
==================
Post Footer automatically generated by Add Post Footer Plugin for wordpress.
Tweet