Feedback – Gen Shi lab steroids inside.
28 October 2011
No Comment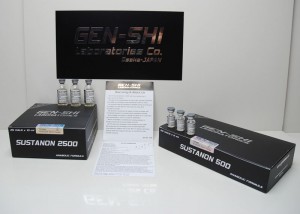 So over the past 2 months i have used my self some good product.  Gen-Shi labs, has some really clean legit products.  So i wanted to write a quick review.
Sustanon.  This is the first product i got acne from, but i have to say it was the best Test cycle i ever ran.  I used this product alone, and put on 17 lean lbs of Muscle mass in 6 weeks.  1ml EOD.  Great product and it came from www.gbnstore.net   Very fast delivery. 
Tren Ace –  I heard alot of Horror stories about tren.  I have no horror story for you.   I ran 75mg EOD and to be honest the only thing that sucked was not being able to fall asleep, even though it did make me feel like i could sleep all day and night, i could not.    I love this product, i would recomend using it only when you really need to cut, it does the job. 
Test Prop – Great Test.  Very fast acting, i felt it day 2.  No side effects at all.  Recovery was easy with there Nolvadex aswell. The injects do sting a tiny bit, but i would say thats a great sign, it should feel like that.
The products, where all legit. Price is very cheap.  I am very happy that the product was legit and they work fast like steroids should.  I did have fast acting steroids, but they actually kicked in quicker then other labs. 
All products came from.  www.gbnstore.net Packaged and shipped very discret. The genshi products are sent in a normal shipping package, when you open it up.  There is cardboard that the steroids are taped to, and then stappled closed so no one can tell what is in the package.  It is really a great shipping process.

Discuss this on bodybuilding forum

==================
We do not promote the use of anabolic steroids without a doctor's prescription. The information we share is for entertainment purposes only.
THIS IS NOT MEDICAL, LEGAL OR ANY OTHER TYPE OF ADVICE. SIDE EFFECTS ARE UNKNOWN SO THEREFORE DEATH AND SERIOUS BODILY INJURY MAY OCCUR. ONLY USE DRUGS, SUPPLEMENTS, OR EXERCISE UNDER YOUR DOCTORS DIRECTION.
==================
Post Footer automatically generated by Add Post Footer Plugin for wordpress.
Tweet