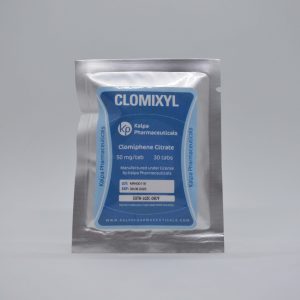 Pharmaceutical Form
Drug Class: Selective Estrogen Receptor Modulator
Active Life: 5-7 days
Average Dose: for PCT in Men 50-100 mg/day
Liver Toxicity:
Aromatization rate:
DHT Conversion:
Decrease HPTA function:
Anabolic/ Androgenic rate:
Active Substance: Clomiphene Citrate 50mg/tab
Clomixyl by Kalpa Pharmaceuticals with its active substances Clomiphene Citrate is the product used for increasing body's own testosterone production and is used in post cycle therapy to minimize muscles losses.
Clomyxyl also may be used as anti-estrogen, however it is not so strong at this point and is useful only when users are not on strong androgenic steroids.
As for those who want to increase the strength and capacity of their muscles, Clomixyl helps to achieve that by increasing the level of testosterone in the blood. It also helps in the development of muscles in the upper arms and the abdomen.
Check it out and its lab test on official Kalpa site here.
Post Footer automatically generated by Add Post Footer Plugin for wordpress.