Dianoxyl 50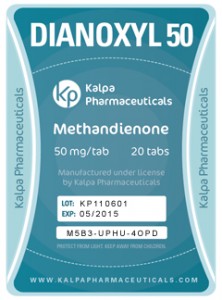 Drug Class: Oral Anabolic Androgenic Steroid
Active Life: 6-8hours
Average Dose: 25-50 mg/day
Liver Toxicity: High
Aromatization rate: High
DHT Conversion: None
Decrease HPTA function: Yes
Anabolic/ Androgenic rate: 90-210 : 40-60
Active Substance: Methandienone 50mg/tab
Dianoxyl 50 is the variation of the popular Dianoxyl 10mg, oral steroid made by Kalpa Pharmaceuticals. Follow this link to read detailed Dianoxyl 10 profile.

Among the fact that it will retain water for most of users it has a negative impact on liver so it is not recommended to take it longer than 6 weeks and more than 50mg/day
Better to split dosage throughout the day for keep constant blood levels.
Kalpa Pharmaceuticals makes 2 versions of Dianoxyl compound 10mg tabs and 50mg tabs. The choice is yours.
Post Footer automatically generated by Add Post Footer Plugin for wordpress.
Tweet