Breaking News: Zack Khan Injured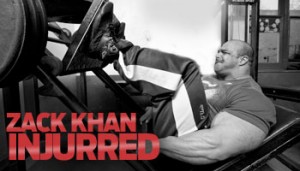 Zack Khan underwent surgery to repair two detached tendons in both knees
June 10, 2010
Rookie IFBB Pro League athlete Zack Khan was forced to postpone his debut once already this year. Now, Khan may have to push that debut further back than the FLEX Pro in February 2011.
Khan underwent surgery today, two days after completely detaching the tendons above his left and right knees. Khan suffered the injury while hack squatting. He was back in the gym just 10 days after undergoing surgery for a minor hernia, which was the reason Khan pushed his pro debut from the Tampa Pro Bodybuilding Weekly Championships on July 17 to the FLEX Pro on February 26, 2011.
"It was the first time Zack had trained legs in about eight weeks, actually," Khan's trainer/nutritionist Neil Hill said. "He had suffered a very small tear in his left hamstring about eight weeks ago. So all he had done the last couple weeks were some very light extensions."
We spoke with Khan before his surgery and received an e-mail from Hill informing us that the surgery was a success.
"I'm just looking forward to getting the operation out of the way, then I'll start thinking about walking again and everything," Khan said yesterday. "I'm positive, I've spoken to doctors who said I'd be up and walking within six to eight weeks.
"This is just another obstacle. I've had many in my life and gotten through them all, so this is nothing. I'll be back soon."
KHAN'S STATS
BIRTHDATE: July 1, 1980
BIRTHPLACE: Kashmir, Pakistan
CURRENT RESIDENCE: Sheffield, England
HEIGHT: 5'11"
WEIGHT: 260 pounds (contest); 300-315 (offseason)
CAREER HIGHLIGHTS: 2009 British Championships super-heavyweight and overall winner; 2008 British Championships, heavyweight, 4th; 2005-07 British Championships, heavyweight, 2nd
SPONSORS: AMI/Weider
Source: flexonline.com

Discuss this on bodybuilding forum

==================
We do not promote the use of anabolic steroids without a doctor's prescription. The information we share is for entertainment purposes only.
THIS IS NOT MEDICAL, LEGAL OR ANY OTHER TYPE OF ADVICE. SIDE EFFECTS ARE UNKNOWN SO THEREFORE DEATH AND SERIOUS BODILY INJURY MAY OCCUR. ONLY USE DRUGS, SUPPLEMENTS, OR EXERCISE UNDER YOUR DOCTORS DIRECTION.
==================
Post Footer automatically generated by Add Post Footer Plugin for wordpress.
Tweet