What can a good cycle do for you. Check this out. Exclusive to MusclesPROD.
6 September 2011
2 Comments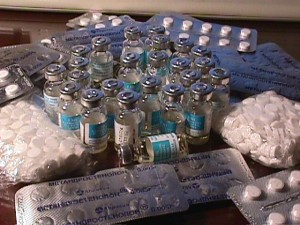 This is somthing new to add to this blog.     A friend of mine is running a cycle, Test p and Tren Ace.  The cycle is going to br run for 7 weeks.    Week 1 – 6 is going to include both Test P and Tren Ace  100mg shots EOD of Test P, and 75mg Injections of Tren Ace.   Week 7 there will be just Test P at 50mg EOD to get off the Test, this is to help the body bring its natural Test back, and also to keep Test levels higher then the Tren.   The pictures will show the results, side effects.  Each week updates of the injection pain, post injection pain and of course the strentgh Gains and all other resutls will be posted.  Measurements included.  Weigh ins.    Everything will be recorded on here for you to read and see.
Starting weight 235lbs.
5'8
23 years old.
5 cycles previously ran.  This is the first with Tren and after a long break away from the gym.   So we will beable to see just how well these products really work, and what they can do for you run properly.
I hope everyone can enjoy this, and see what works and what does not.  This is some what of an experiment, but in reality it is just a small cycle being run safely.
More information can be found and followed on www.Hypermuscles.com   The steroids will be coming from www.gbnstore.net   They are going to be GEN -SHI products and Geneza Pharmaceuticals.
After week 7 the PCT may include Nolva and Clenbuterol, of course the products will be listed.

Discuss this on bodybuilding forum

==================
We do not promote the use of anabolic steroids without a doctor's prescription. The information we share is for entertainment purposes only.
THIS IS NOT MEDICAL, LEGAL OR ANY OTHER TYPE OF ADVICE. SIDE EFFECTS ARE UNKNOWN SO THEREFORE DEATH AND SERIOUS BODILY INJURY MAY OCCUR. ONLY USE DRUGS, SUPPLEMENTS, OR EXERCISE UNDER YOUR DOCTORS DIRECTION.
==================
Post Footer automatically generated by Add Post Footer Plugin for wordpress.
Tweet