The Importance of Stretching in Bodybuilding.
17 January 2011
No Comment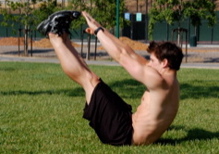 The Importants of Stretching in Bodybuilding.
Benefits.
– Increased Range of Motion
– Muscle fiber less likely to tear or become pulled.
– Increased Flexibility
– Reduced muscle cramps and sorness.
In Bodybuilding The Importance of Stretching is 95%. To grow bigger muscle, the muscle will need to be stretched and flexible to continue for growth. Even though Stretching is not the fun part and is boring, the benefits are worth the 10-15 minutes, and will help you from being injured.
When it comes to stretching, there are 2 basic groups. Dynamic and Static stretches. Dynamic will help you loosen up the muscle and get blood flowing to them. Static Stretches are the after or post workout stretching which will help your body relax and cool down. You no that feeling when you are walking and you leg muscle tighens up or even charlie horses, here is where the Importance of stretching in bodybuilding come in, they will help you solve this problem and you will not encounter these problems or injuries.
To Perform a Dymname Stretch, you would use the body part you were focusing on that day. For Example, if you are Benching you will will want to lie down on a bench and perform the benching movement with no weights in a deep stretch. This will help loosing the muscle up and also bring that blood flow to the area to be warmed up and ready.
Static Stretching, at this time you will be finished working out. But at the same time your muscle is tight, what you want to do is get it back to normal size before you leave the gym. In Bodybuilding you are tearing these muscles apart day after day and you need them to be prepared for the next workout without being set back, this could be costly especially if you are getting ready for a competitions. So a static stretch is you stretch the muscle and hold for about 30 seconds which is a good amount of time. You will not only feel the stretch but after you stop, you will feel a good well being and nice relaxed feeling threwout your body. Go ahead and give it a try.

Discuss this on bodybuilding forum

==================
We do not promote the use of anabolic steroids without a doctor's prescription. The information we share is for entertainment purposes only.
THIS IS NOT MEDICAL, LEGAL OR ANY OTHER TYPE OF ADVICE. SIDE EFFECTS ARE UNKNOWN SO THEREFORE DEATH AND SERIOUS BODILY INJURY MAY OCCUR. ONLY USE DRUGS, SUPPLEMENTS, OR EXERCISE UNDER YOUR DOCTORS DIRECTION.
==================
Post Footer automatically generated by Add Post Footer Plugin for wordpress.
Tweet