Increasing your Deadlift. 25 tips.
15 August 2011
One Comment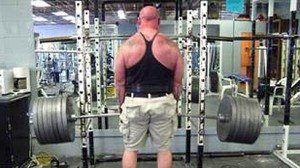 To increase your strentgh and deadlift potential follow these easy steps.
1. Learn the Olympic Lifts. The Deadlift is not a Stiff-legged Deadlift. Olympic Lifts will teach you to keep your hips down.
2. Learn to squeeze your abs. A tight core is key to lifting big weights. It's also safer for your lower back. Brace your abs.
3. Do glute activation work. If you lockout the weight by pulling back instead of using the glutes, start doing glute activation work.
4. Improve hip mobility & flexibility. Tightness in the hip area will make it harder to use the glutes. Do some (dynamic) flexibility work.
5. Deadlift more. The more you deadlift, the better you'll become. Try deadlifting twice a week: once light, once heavy.
6. Get starting strength by Mark Rippetoe. The best investment you will make: it will teach you the technique on the major lifts.
Increase your Strength
7. Increase your muscle mass. The bigger your muscles, the greater your strength. So eat more.
8. Use the maximal effort training method. Heavy singles at +90% intensity for 3 to 7 sets.
9. Strengthen your legs. Full Squats & Front Squats are your friends.
10. Strengthen your hips. Box Squats, Glute-Ham Raises, Pullthroughs, Reverse Hypers, Romanian Deadlifts, Sumo Deadlifts, …
11. Strengthen your glutes. Kneeling Squats, Deadlift Lockouts, …
12. Strengthen your lower back. Goodmornings, Reverse Hypers, Weighted Hyperextensions, …
13. Strengthen your upper back. Barbell Row, Powercleans, Powersnatch, High Pulls, …
14. Strengthen your abs. Windmills, Turkish Get-Ups, Front Squats, Zercher Squats, Quarters Squats, Heavy Deadlift Lockouts, Side Deadlifts, Side Bends, Pulldown Abs, Prone & Side bridges, …
15. Do unilateral work. Lunges, Step-Ups, Single-leg Deadlifts, Pistols…
Increase your Speed
16. Pull fast. Learn to pull with maximal speed by applying maximum force & acceleration to the bar.
17. Speed Deadlifts. Several sets at 70% intensity.
18. Bands. Popularized by Westside Barbell: bands will teach you to accelerate the bar.
19. Chains. Another accomodating resistance method. Chains will also teach you to accelerate the bar.
20. Box Squats. Box Squats are perfect to learn exploding from the bottom position.
Train your Sticky Point
21. Train the bottom movement. Deadlifts from blocks, Snatch-grip Deadlifts, Halting Deadlifts, Deadlifts with small plates, …
22. Train the middle movement. Rack Pulls from knee level.
23. Train the top movement. Deadlift Rack Lockouts.
Train for Power
24. Olympic Lifts. Power Cleans, Powersnatch, … will teach you to explode under the bar.
25. Plyometrics. Depth Jumps are perfect to develop leg power.

Discuss this on bodybuilding forum

==================
We do not promote the use of anabolic steroids without a doctor's prescription. The information we share is for entertainment purposes only.
THIS IS NOT MEDICAL, LEGAL OR ANY OTHER TYPE OF ADVICE. SIDE EFFECTS ARE UNKNOWN SO THEREFORE DEATH AND SERIOUS BODILY INJURY MAY OCCUR. ONLY USE DRUGS, SUPPLEMENTS, OR EXERCISE UNDER YOUR DOCTORS DIRECTION.
==================
Post Footer automatically generated by Add Post Footer Plugin for wordpress.
Tweet