How to train when gym is full of people
25 February 2010
2 Comments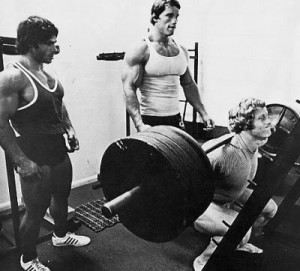 How to train when gym is full of people
By MusclesProd
How many times you went to the gym with a serious attitude to make your muscles "burn" but when you entered the gym you saw it is full? What was your first thought? To move your training routine to other day? To have a light training? No, that is not an attitude of a winner. Let's change clothes and start warming up, meanwhile we will see how to get maximum out of your workout in this situation:
1.Turn the music louder. A good way to keep you concentrated on exercise is to have your mp3 player with you. Select your favorite music and listen to it and not matter what happens near you nothing can affect your training.
2. Keep moving. Even in a huge gym there are times when the bench you need is busy. In this case just do 2 or 3 sets more of previous exercise. This is done to keep you pumped and your heart working in optimal mode.
3. Do supersets. You can do a superset instead of the exercise you can't do right now because the bench or weight is busy.
4. Replace with another similar exercise. There are many exercises which hits the same muscle group you train today so you can always replace some exercises, plus that will be good for your muscles as they will get a shock which will make them grow.
Now, you have 4 options what to do when your gym is full of people so no one gets home before workout is done 🙂
Good luck and don't miss training days.
Publishing this article anywhere else is permitted only with source indication.
© Musclesprod.Com

Discuss this on bodybuilding forum

==================
We do not promote the use of anabolic steroids without a doctor's prescription. The information we share is for entertainment purposes only.
THIS IS NOT MEDICAL, LEGAL OR ANY OTHER TYPE OF ADVICE. SIDE EFFECTS ARE UNKNOWN SO THEREFORE DEATH AND SERIOUS BODILY INJURY MAY OCCUR. ONLY USE DRUGS, SUPPLEMENTS, OR EXERCISE UNDER YOUR DOCTORS DIRECTION.
==================
Post Footer automatically generated by Add Post Footer Plugin for wordpress.
Tweet