Bring up your back
26 December 2009
No Comment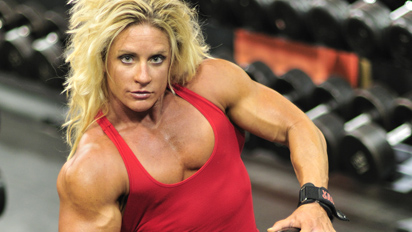 Dr. Dena Westerfield prescribes how to safely pack on back mass
Florida native Dena Westerfield is a practicing chiropractor in St. Louis, Missouri. She placed fifth in the 2009 New York Pro. Westerfield lays out some rules for keeping your spine safely aligned while training lats, and she dishes up a routine that helped her grow one of the thickest backs in female bodybuilding.
A CHIROPRACTOR'S APPROACH TO BACK TRAINING
• Warmup thoroughly. I do two warmup sets of chins before my first set of pulldowns.
• Pyramid your sets. This allows you to get accustomed to each exercise before doing your heaviest sets. I pyramid my sets from a lighter weight for 15 reps to my heaviest set for 8 reps.
• I like to do top deadlifts in a power rack, which focus more on my back and less on my legs and glutes.
• Keep the natural curve in your lumbar region [lower back] while doing rows, pulldowns and chins. Don't let your shoulders hunch forward and straighten your spine. * Concentrate on pulling your chest up instead of leaning back.
DENA WESTERFIELD'S BACK ROUTINE
EXERCISE SETS REPS
Wide-grip pulldowns 4 15-18
One-arm dumbbell rows 4 15-18
Close-grip seated cable rows 4 15-18
Top deadlifts 4 15-18
Source: FlexOnline.Com
Video with Dena Westerfield


Discuss this on bodybuilding forum

==================
We do not promote the use of anabolic steroids without a doctor's prescription. The information we share is for entertainment purposes only.
THIS IS NOT MEDICAL, LEGAL OR ANY OTHER TYPE OF ADVICE. SIDE EFFECTS ARE UNKNOWN SO THEREFORE DEATH AND SERIOUS BODILY INJURY MAY OCCUR. ONLY USE DRUGS, SUPPLEMENTS, OR EXERCISE UNDER YOUR DOCTORS DIRECTION.
==================
Post Footer automatically generated by Add Post Footer Plugin for wordpress.
Tweet