Back and Forth with Correa
Top 202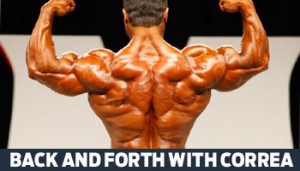 pro Eduardo Correa answers back training questions
May 12, 2010
Eduardo Correa lives in the capital of laid-back: Florianopolis, a resort island off the coast of Brazil. So we could all forgive E.C. if he chilled at the beach instead of killing it in the gym. But that's not how he rolls.
Correa burst onto the scene last year, winning his pro debut at the 2009 IFBB Pittsburgh Pro Invitational 202 as a 27 year old. Many thought he was the best 202er in the '09 Olympia 202 Showdown, where he placed third, and this year Correa has kept the momentum going, easily winning the 2010 IFBB Europa Show of Champions 202 in April.
We questioned Correa on back training and got his typical back routine to find out how he sculpted the thickness and width in his rear shots to come in and do serious damage in the 202 ranks.
Q: You have one of the thickest backs in the 202 division. What do you think is best for back thickness?
A: All variations of rowing exercises. I'm always alternating between grips to work specific areas of my back and at the same time increase the thickness.
Q: How important are deadlifts?
A: Basic exercises like deadlifts are really important, although we must remember that we have an aesthetic goal, and because of that the way to execute this exercise is a little different. What I do is always focus on contracting my scapula to focus more on my inner, upper back.
Q: What exercises do you do for lower back?
A: The rowing exercises are my favorites. As I said before, I'm always switching my grip, and I think that helps a lot.
Q: Do you train traps with back or shoulders?
A: I usually train traps at the end of my shoulder routine. I do shrugs with a barbell or dumbbells for 4 sets 10-12 reps.
Q: What advice would you give for young bodybuilders who want to gain back size?
A: Focus on the right execution of each movement. Keep the focus on getting a full stretch and contraction every time. Don't worry about the amount of weight, your strength will improve with time.
CORREA'S BACK ROUTINE

EXERCISE
SETS
REPS
T-bar rows
5
12
Hammer Strength rows (parallel grip)
3
10-12
One-arm dumbbell rows
4
12
V-bar pulldowns
4
12
Hammer Strength rows (reverse grip)
3
15
Cable pullovers
4
15

sr
Source: FLEXONLINE.COM

Discuss this on bodybuilding forum

==================
We do not promote the use of anabolic steroids without a doctor's prescription. The information we share is for entertainment purposes only.
THIS IS NOT MEDICAL, LEGAL OR ANY OTHER TYPE OF ADVICE. SIDE EFFECTS ARE UNKNOWN SO THEREFORE DEATH AND SERIOUS BODILY INJURY MAY OCCUR. ONLY USE DRUGS, SUPPLEMENTS, OR EXERCISE UNDER YOUR DOCTORS DIRECTION.
==================
Post Footer automatically generated by Add Post Footer Plugin for wordpress.
Tweet