Stack it! Part 3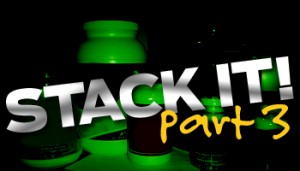 Today we continue to post great series of articles "Stack it!" by by Jim Stoppani. So enjoy reading and the apply this information.
In this, the third of a four-part series on stacking supplements, we show you how to stack to increase testosterone
by Jim Stoppani, PhD
TESTOSTERONE STACK
If there is one hormone every body-builder needs to be in tune with, it's testosterone. That's because testosterone enhances strength, muscle mass and leanness. Therefore, knowing how to keep your levels maximal is critical for your bodybuilding success. Use this supplement stack for optimal levels of testosterone.
* EURYCOMA LONGIFOLIA JACK
Also known as Tongkat Ali, this rainforest plant has been used for centuries as a medicinal herb. It enhances testosterone levels through different mechanisms. One mechanism involves the freeing up of testosterone from sex-hormone-binding globulin, a protein that carries testosterone in the blood and prevents it from entering muscle cells, where it can stimulate growth. Another way that eurycoma works is by stimulating the Leydig cells of the testes to directly increase testosterone production. Research confirms that eurycoma can lower SHBG by about 30%, and increase testosterone levels by almost 20%. It has also been shown to enhance muscle growth and strength greater than a placebo.
* FORSKOLIN
What was once known just as a fat burner is now known for its potent testosterone-boosting effects. Forskolin is the active ingredient from the herb Coleus forskohlii. It works as both a fat burner and a testosterone booster due to the fact that it activates the enzyme adenylate cyclase. Activating this enzyme ramps up testosterone production by the testes, as research confirms in a 2005 study from the University of Kansas (Lawrence).
* CARNITINE
Another supplement that was known as just a popular fat burner, but now is known for its ability to enhance the action of testosterone, is carnitine. Thanks to a few studies performed by University of Connecticut (Storrs) researchers, we now know that supplementing with carnitine can augment the anabolic properties of testosterone. Subjects taking carnitine had higher levels of androgen receptors in muscle cells. Testosterone binds to these receptors to instigate muscle growth. The higher the number of androgen receptors in a muscle cell, the greater the muscle cell's potential for growth. Carnitine works synergistically with the other two test boosters — they raise testosterone levels, and carnitine allows more of that testosterone to do its work in the muscle.
STACK THEM LIKE THIS
Consume 100-300 mg of eurycoma with breakfast, 30-60 minutes before workouts, and before bed. Look for Coleus fors-kohlii standardized to provide 20-50 mg of forskolin and supplement with it two or three times per day. For carnitine, take 1.5-3 g with breakfast, with your preworkout and postwork-out shakes and your nighttime meal. Cycle eurycoma and forskolin for eight weeks, then take two to four weeks off before repeating. Carnitine can be consumed without cycling.
Source: flexonline.com

Discuss this on bodybuilding forum

==================
We do not promote the use of anabolic steroids without a doctor's prescription. The information we share is for entertainment purposes only.
THIS IS NOT MEDICAL, LEGAL OR ANY OTHER TYPE OF ADVICE. SIDE EFFECTS ARE UNKNOWN SO THEREFORE DEATH AND SERIOUS BODILY INJURY MAY OCCUR. ONLY USE DRUGS, SUPPLEMENTS, OR EXERCISE UNDER YOUR DOCTORS DIRECTION.
==================
Post Footer automatically generated by Add Post Footer Plugin for wordpress.
Tweet