Interview With Patty Wilson – October 2009
16 October 2009
No Comment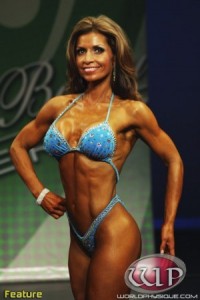 Interviewed by: Leesa Paul
WP:Patty was heavier as a kid and not in shape. She came from a small town where food was plenty and exercise was not in the vocabulary. As she started getting older and looking at health magazines, she discovered that that was an area in her life she wanted to learn more about. From that point; she never looked back! Now, Patty is a Personal Trainer, Group Fitness Instructor, Figure Competitor and Fitness Model.
She truly enjoy working out and fitness related activities, as she loves the feeling of a strong body. "Exercise gives me discipline, determination and dedication. Because I am so passionate about what I do, I love to motivate my clients to also love it for themselves. I strive to be a life coach for my clients. My goal is to encourage and challenge my clients to feel stronger and more confident with every session", say Patty.
Hello, Patty. It's great to be here with you today. Ready to get started?
PW: It's great to be here! Sure! Let's go!
WP: I understand you have been a Personal Trainer for over 12 years. You have a Bachelor's in Business Administration; which is amazing. In addition, you are certified through AFAA, and other certifications such as: Johnny G spin instructor, CPR and first aid. That's a lot of certification and qualitifcations for your line of work. You should be proud of yourself. Where do you train your clients? Do you train them in a gym, at home, or where?
PW: Thank you, Leesa. I am currently working on more certifications. I train my clients out of a private gym, out of their homes, and outside. I can devise a workout for anyplace clients would like.
WP: How much time per day do you typically spend with a client?
PW: I spend a minimum of an hour with each client per session.
WP: So, I'm going to pick your brain for a few questions for a bit of "Personal Training" information. This might actually help some of our readers. You don't mind, do you?
PW: Of course not. Ask away.
WP: Here we go! What forms of exercise do you find to be the most effective for gaining mass?
PW: To gain mass, I believe in low intensity cardio and low reps with heavy weight. I also recommend changing the program about every 4 weeks.
WP: Okay, what about losing weight. What type of exercises do you recommend?
PW: I feel the person should at least do 45 minutes cardio 5 days a week and incorporate a variety of weight training into their workout.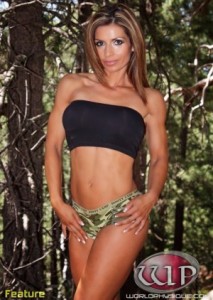 WP: What if their goal is to get cut? What do you recommend?
PW: I recommend increasing their cardio to an 1 hour a day and continue to lift moderately. Now, if they are doing this before a competition compete, I recommend them to taper off from the cardio to rest about 2 days before big day.
WP: Thank you for allowing me to pick your brain like that. Now, I know you compete and you actually won the title, '2009 Fitness America Competition Southwest'. A little birdy told me. What other titles have you won?
PW: A little birdy, huh? Ha-ha! Thus far, I have won the following titles other then the one you just mentioned:
Fitness America: Mesa, AZ, I placed 2nd in Figure & 3rd in Sports Model.
2008 OCB Naturals, Mesa, AZ place 3rd in Figure & 4th in Fitness model.
2008 America's Fittest Model, Scottsdale, AZ Fitness Model Competitor.
2008 NPC Emerald Cup, Seattle WA Figure Competitor.
2007 NPC USA Nationals, Las Vegas, NV placed 16th in Figure Class.
2007 NPC Jr Nationals, Culver City CA placed 4th in Figure Class
and, 2007 NPC Western USA, Phoenix, AZ placed 1st in Figure Class.
WP: You have came along way! That's a great list! How does your routine and life changes when you go from pre-contest to off-season?
PW: I still workout everyday during my off-season, It's just not as intense and don't get crazy if I miss a day of working out. I also stick to a clean diet during my off-season, but I do allow myself some cheat meals.
WP: What do you like and dislike about competing?
PW: I like the mindset it puts me into when I compete. I get more focused and in tuned with everything I put into my body and do. I dislike being so critical sometimes.
WP: Being critical at times is probably what gets you to your goals. But, I can understand. You compete in several different federations such as NPC & OCB. In addition, you also compete in the Fitness Universe. Are you aiming for your Pro-Card?
PW: I am, eventually.
WP: What do you feel you must do to reach your goal?
PW: At this point, I enjoy competing in different organizations to get the knowledge of what each want from their competitors and the experience. By doing this, I feel it will make it easier to pick the one I love the most.
WP: That's pretty smart! From your past contests, what have you learned you need to correct or work on for the physique you are aiming for?
PW: I have learned that there is always room for improvement and a great attitude will go along way.
WP: What problems have you had as far as staying motivated and disciplined to stick with your workouts?
PW: Not getting sufficient sleep is the biggest, right now. Also, I over commit myself to others.
WP: Sounds like you have a heart of gold! What problems did you have to overcome in order to stay on track with your fitness program?
PW: My downfall is finding time for my workouts, but never underestimate me…I DO get them done…what ever time of day or night and getting all my meals in on time!
WP: How have you changed over the years?
PW: My eating habits have done a 360 for the better. Every year, I have made my body better and better naturally. I have developed so much respect for those who truly take this sport to heart. Many people do not understand our insanity.
WP: No, they don't. If they did, there would be a lot of more respect for the athletes in this industry. Please explain your workouts to me.
PW: I do an hour of cardio daily, mixing it up from bleachers, to running, etc. I then do a half hour of weights everyday; splitting up my body parts. On leg day, I weight train about an hour. I vary my routine and do high repetitions with moderate weights. On other days, I do heavy weights with low repetitions. I rarely take a day off.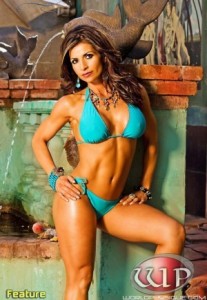 WP: You mentioned earlier that you eat a clean diet. Can you tell me about your diet?
PW: I eat 5 to 6 times a day. I stay within 300 calories per meal and 150 per snack. I take in about 120 grams protein, 100 grams carbohydrates, and 25 to 30 grams of healthy fats.
WP: Who had the most impact on you in your life thus far?
PW: My Grandma, who is no longer with us but who is a truely the strongest person I have ever known.
WP: What were you like in high school?
PW: Ha-ha! I was more like the class clown. I was never much on going out and partying.
WP: Class clown? Ha-ha! You just gave me a vision of you in a colorful wig and a big red nose! Sorry! Ha-ha! What are your hobbies outside of fitness?
PW: I love to read, dance, and spending time with my family; especially my little niece, Taylor. I enjoy hanging out with good people and traveling.
WP: What type of music do you listen to?
PW: I listen to everything! From Country to Hip Hop.
WP: What supplements do you take?
PW: Right now, I take Omega 3's, Multi vitamin, Chromium Picolinate, grape seed extract, alpha lipoic acid, and L-Carnitine.
WP: What accomplishments have you achieved thus far in your life that you are proud of?
PW: Gosh, there are so many! I don't know where to begin! One accomplishment is taking my personal accomplishment of stepping on the competition stage and also being in magazines…and covers of magazines, which one coming up is the cover of Your Health Magazine coming in November. And of course, having this interview with World Physique! I'd anticipate being on your next cover! Ha-ha!
WP: Patty, that is a thought! You would light up that cover! Anything you would like to mention before we close?
PW: I just want to tell your readers who read this to never doubt your abilities. I truly believe we are all capable of anything we set our minds and heart on. My favorite quote is, "It's not about being perfect, it is about being persistent" and that, I am!
WP: Great advice, Patty. It has been great to talk to you again. Wonder what it would our cover would look like with you on it? Hummmm…

Discuss this on bodybuilding forum

==================
We do not promote the use of anabolic steroids without a doctor's prescription. The information we share is for entertainment purposes only.
THIS IS NOT MEDICAL, LEGAL OR ANY OTHER TYPE OF ADVICE. SIDE EFFECTS ARE UNKNOWN SO THEREFORE DEATH AND SERIOUS BODILY INJURY MAY OCCUR. ONLY USE DRUGS, SUPPLEMENTS, OR EXERCISE UNDER YOUR DOCTORS DIRECTION.
==================
Post Footer automatically generated by Add Post Footer Plugin for wordpress.
Tweet