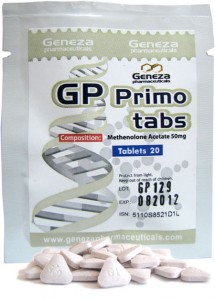 Geneza Pharmaceuticals is a relatively new company on the market but in short period of time their products conquered hearts of many athletes and this due to quality and the wide range of products they manufacture.
GP Primo tabs (Primobolan) by Geneza Pharmaceuticals is an oral steroid which contains 50mg of the substance Methenolone Acetate.
GP Primo tabs are very popular among many bodybuilders. Primobolan tabs are similar to injectable version of the same product. Primo tabs are the best choice when your goal is to achieve qualitative muscle mass. Many use it in notably in cutting phases of training getting great results.
A huge plus of GP Primo is that this product is not c17 alpha alkylated and thus negative effect on liver is minimal.
This profile was created by MusclesProd, if you want to use it on your site it is mandatory to use musclesprod.com as the source.
Post Footer automatically generated by Add Post Footer Plugin for wordpress.
Tweet