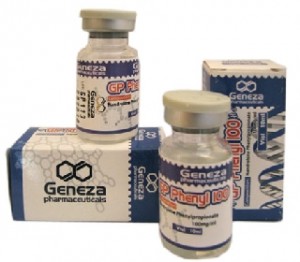 Geneza Pharmaceuticals is a relatively new company on the market but in short period of time their products conquered hearts of many athletes and this due to quality and the wide range of products they manufacture.
GP Phenyl 100 contains Nandrolone Phenylpropionate and comes in 10ml vials.
GP Phenyl 100 is very similar to GP Deca 250. However the main difference is that GP Phenyl 100 is faster acting thus its half-life is shorter.
Better results are achieved with injections every third day with dosage around 50-100 mg per injection, or a total of 150-300 mg/week.
GP Phenyl 100 retains less water than GP Deca 250 and acts quicker.
This profile was created by MusclesProd, if you want to use it on your site it is mandatory to use musclesprod.com as the source.
Post Footer automatically generated by Add Post Footer Plugin for wordpress.
Tweet