Top 5 Arnold Classic Physiques
26 February 2010
One Comment
We weigh in on our five favorite physiques ever to grace the Arnold Classic stage
February 23, 2010
Shawn Perine
This year Columbus, Ohio will play host to the 22nd edition of the Arnold Classic Bodybuilding Championships, a contest second only to the Mr. Olympia in terms of prestige, and one with a great history of its own. Starting in 1989, with Rich Gaspari edging out Robby Robinson for the win, 'The Arnold' has seen its share of great bodybuilding champions leave Ohio not just with a massive check in hand, but the knowledge that they were now firmly ensconced forevermore in bodybuilding's top echelon.
Yet for as high a standard as was reached by each of the dozen men who've won the title (which, by the way, is one more than the number who have won the Olympia), a few physiques stand out as paragons of perfection. Below we've compiled a list of our five favorites, starting with number five…
5. Jay Cutler (2003)
Because he decided to skip the 2002 Mr. Olympia due to his controversial loss to Ronnie Coleman, Jay Cutler had a full year to revamp his physique between his first Arnold win in 2002 and what would be his second. Coming in at a hard 255 pounds, Jay won this one over Chris Cormier (whom he relegated to second in all three of his wins), unlike the following year when he slipped by Cormier by a scant point.
4. Kai Greene (2009)
When Kai Greene took the stage at last year's Arnold Classic a collective gasp emanated from the Veterans Memorial Auditorium. His was one of the most massive, most densely-packed bodies ever to appear in any bodybuilding contest in history. His win was a no-brainer and had he brought the same exacting level of conditioning to the Olympia stage later that year he may well have pushed Jay Cutler hard for top honors.
3. Dexter Jackson (2008)
A case could be made that the best Dexter Jackson we've yet to see appeared not at the 2008 Mr. Olympia, which he won, but six months earlier in Columbus. With the exception of his calves there is nothing to criticize about the Jackson physique, and at the 2008 Arnold the rest of the man was so on point that talking about his lower legs would be akin to whistling in the wind. The guy was very, very close to perfect on that day.
2. Flex Wheeler (1993)
Speaking of perfect, when talk in bodybuilding circles turns to physique perfection one of the most mentioned men is Flex Wheeler, the 1993 version of Wheeler in particular. At just 27 and in his rookie year as an IFBB pro, Wheeler brought to bear a physique that was — in a word — beautiful, and that physique saw its apex at that year's Arnold Classic. It's worth noting that while his conditioning might not have equaled that of later champs, it was just right for the time.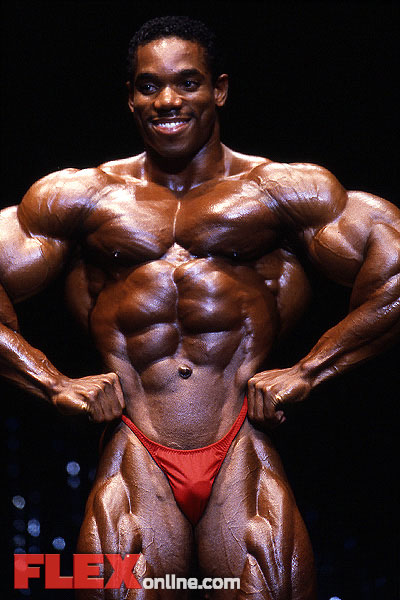 1. Ronnie Coleman (2001)
Of his eight Olympia and overall 26 IFBB professional wins, Ronnie Coleman has established himself as arguably the greatest bodybuilder of all times, and this is the version of his physique is the one most experts point to as being his best. Standing 5'11" and weighing 247 pounds, Coleman was hyper-muscular, tight, dry and still retained the lines (wasp waist and all) of his amateur days. From head to toe, back to front, he astounded judges, audience and fellow competitors alike. The 2001 AC Coleman was a physique for the ages.
Source: FLEXONLINE.COM

Discuss this on bodybuilding forum

==================
We do not promote the use of anabolic steroids without a doctor's prescription. The information we share is for entertainment purposes only.
THIS IS NOT MEDICAL, LEGAL OR ANY OTHER TYPE OF ADVICE. SIDE EFFECTS ARE UNKNOWN SO THEREFORE DEATH AND SERIOUS BODILY INJURY MAY OCCUR. ONLY USE DRUGS, SUPPLEMENTS, OR EXERCISE UNDER YOUR DOCTORS DIRECTION.
==================
Post Footer automatically generated by Add Post Footer Plugin for wordpress.
Tweet