Sergio Oliva, biography, pictures and videos.
21 January 2010
4 Comments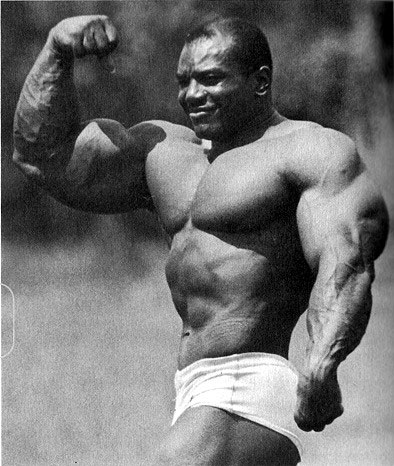 Sergio Oliva is a bodybuilder known as "The Myth". This sobriquet was given to him by bodybuilder/writer Rick Wayne. Wayne had begun calling Oliva "The Myth" "(because everyone who saw him at the 1967 Montreal World's Fair said he was "JUST UNBELIEVABLE")"
Biography

Early life
Oliva was born in Cuba on July 4, 1941. At the age of twelve he worked with his father in the sugar cane fields of Guambaco. When Oliva was 16, his father suggested that he enlist in Fulgencio Batista's army. In the absence of a birth certificate, the recruiting officer took the senior Oliva's word that his son was old enough to enlist in the fight against communism.
After losing the war to Fidel Castro, Oliva stayed local and took to hanging out at the beach. There he met a fellow sun worshipper who invited him to the local weightlifting club. After just six months of training Oliva was doing clean & jerks with over 300 pounds. Totaling 1000 pounds in the three Olympic lifts at a bodyweight of 195lbs, considered a middle-heavyweight. Because of an injury of the top weightlifter, Alberto R. Games, he was chosen to represent Cuba at the 1962 Central America Games hosted in Kingston, Jamaica. In 1962 the National Weightlifting Championship for Cuba was won by Alberto Rey Games Hernandez; Sergio Oliva took second place. Alberto Games was unable to attend the Central American Games because of an injury.
During his stay in Jamaica, Oliva snuck out of his quarters while the guards were distracted. He ran at top speed until he was safely inside the American consulate. Arriving breathlessly he demanded and received political asylum. Soon, sixty-five other Cuban nationals followed him, including Castro's entire weightlifting team. Soon afterward, Oliva was living in Miami, Florida working as a TV repairman.
Life in the United States
In 1963 Oliva moved to Chicago, Illinois. There he worked at a local steel mill and began working out at the Duncan YMCA. Working 10-12 hour days at the steel mill and putting in another 2.5–3 hours at the gym gave Oliva very little time for anything else. Soon the bodybuilding grapevine was abuzz with gossip about a Cuban powerhouse who lifted more than any of the local Olympic champs. Oliva won his first bodybuilding competition the Mr. Chicagoland contest in 1963. Then he was successful again at the Mr. Illinois in 1964 but he lost in 1965 at the AAU Jr. Mr. America winning 2nd place even though he won the trophy for "Most Muscular". In 1966, he won the AAU Jr. Mr. America and again he claimed the trophy for "Most Muscular". He then joined the International Federation of BodyBuilders IFBB in which he won both the professional Mr. World and Mr. Universe Contests. In 1967 he won the prestigious Mr. Olympia contest, making him the undisputed world champion of bodybuilding.
Oliva then went on to win the Mr. Olympia title three years in a row. At 5 feet 11 inches and at a contest weight that varied between 240-255 lbs, Oliva displayed an unprecedented level of muscle mass,muscular density and definition – including a "V" shape to his large, well-formed upper-body that tapered down to a narrow waist – unlike anything seen in prior competitions. Sergio had the largest arms in contest shape of any Mr. Olympia champion in history. His upper arms measured over 22 1/2 inches unflexed, his massive forearms were 20 1/2 inches cold. His forearms measured as large as Arnold Schwarzenegger's flexed upper arms, Arthur Jones "of Nautilus fame" measured Arnold's flexed & pumped upper arms at 19 1/2 inches in 1972 when he was at his most massive weighing around 245. Sergio's chest measured over 58 inches, his torso tapered down to a tiny 28 inch waist and two huge well-muscled legs measuring 32 inches, followed by huge 22 inch calves. He had a 2 1/2 foot differential between his chest and his waist measurement, which still to this day has not been equaled by any Mr. Olympia champion .[citation needed] Oliva would go on to win the Mr. Olympia competition in 1967, 1968, and 1969. In 1968 he made history by being the only uncontested Mr. Olympia champion. None of the other world champions would face him, none of the bodybuilding legends could challenge him, they all feared the legend of "the Myth." Arnold Schwarzenegger was a Mr. Universe, Bill Pearl was another Mr. Universe, Frank Zane was Mr. America, Chuck Sipes was Mr. World, Albert Beckles, Dave Draper, Larry Scott, Boyer Coe, Serge Nubret, Reg Park the list goes on and on., – where he would defeat Arnold Schwarzenegger 4 to 3, marking Schwarzenegger's first and only loss in a Mr. Olympia competition. Schwarzenegger said in his biography the Education of a Bodybuilder that he thought Sergio was so good that he should have won 7 to zero.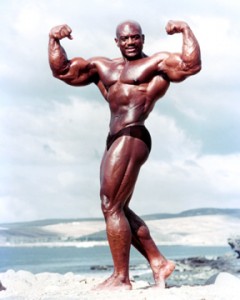 Personal
This biographical section of an article needs additional citations for verification. Please help by adding reliable sources. Contentious material about living persons that is unsourced or poorly sourced must be removed immediately, especially if potentially libelous or harmful. (February 2009)
* He served the city of Chicago as a police officer for more than 25 years.
* In 1986, Sergio survived being shot by his then-wife Arleen Garrett. He sustained 5 bullet wounds
* His son, Sergio Oliva Jr, is following in his father's footsteps into competitive bodybuilding in Miramar Beach, Florida.
* Oliva co-starred with Mil Máscaras in a Mexican wrestling movie in 1975 called El Poder Negro (Black Power), in which he played a super-strong dockworker who runs afoul of the local crime syndicate and helps Mil Máscaras to bring them to justice
Distinctions
* The first non-white athlete to win Mr. America, Mr. World, Mr. International, Mr. Universe, Mr. Olympia.
* The second bodybuilder to win the Mr. Olympia competition.
* The only bodybuilder to ever defeat Arnold Schwarzenegger in a Mr Olympia contest, 1969.
* The only Mr. Olympia champion to ever win uncontested in 1968.
Bodybuilding titles
* 1963 Mr Chicago
* 1964 Mr Illinois
* 1964 Mr America – AAU, 7th
* 1965 Junior Mr America – AAU, 2nd
* 1965 Junior Mr America – AAU, Most Muscular
* 1965 Mr America – AAU, 4th
* 1965 Mr America – AAU, Most Muscular,
* 1966 Junior Mr America – AAU, Winner
* 1966 Junior Mr America – AAU, Most Muscular
* 1966 Mr America – AAU, 2nd
* 1966 Mr America – AAU, Most Muscular,
* 1966 Mr World – IFBB, Overall Winner
* 1966 Mr World – IFBB, Tall, 1st
* 1966 Mr Universe – IFBB Winner
* 1966 Olympia – IFBB, 4th
* 1967 Olympia – IFBB, Winner
* 1967 Universe – IFBB, Overall Winner
* 1968 Olympia – IFBB, Winner
* 1969 Olympia – IFBB, Winner
* 1970 Mr World – AAU, Pro Tall, 2nd
* 1970 Olympia – IFBB, 2nd
* 1971 Universe – Pro – NABBA, Tall, 2nd
* 1972 Olympia – IFBB, 2nd
* 1973 Mr International – IFBB, Professional, 1st
* 1974 Mr International, Professional, 1st
* 1975 Olympus – WBBG, Winner
* 1976 Olympus – WBBG, Winner
* 1977 World Championships – WABBA, Professional, 1st
* 1978 Olympus – WBBG, Winner
* 1980 World Championships – WABBA, Professional, 1st
* 1981 Pro World Cup – WABBA, Winner
* 1984 Olympia – IFBB, 8th
* 1984 Pro States Championships – WABBA
* 1985 Olympia – IFBB, 8th
What writes about Sergio Oliva, Dave Draper:
BITS AND PIECES
SERGIO BY DRAPER
Sergio Oliva literally broke the mold, and he broke it in more than one place. One might say he shattered the whole darn thing. After the man of cartoon-like dimensions came on the bodybuilding scene in the '60s, normal over-sized musclemen looked with both dazed eyes and vacant stares and said, "What's the point? Why bother? The bodybuilder from Mars has arrived."
Thankfully, I met Sergio after winning Mr. America and Mr. Universe, for me the two titles that meant anything in my un-extended competitive career. He could and would be beaten in a contest where subjective opinions were weighed, but who really looked like this creature for basic power, muscle size and density, hardness and symmetry? Another species of animal not yet categorized? He revealed and displayed more than anyone before and anyone since a primitive muscular completeness… and a carriage of grace to belie the brute-ness.
So much for the rugged landscape, the exterior; what about the man? I spent less time with Sergio than I would have liked, as we walked in different neighborhoods, he the street beats of Chicago as a cop and me the sandy beaches of California as a driftwood furniture maker. What we did share in common was obvious: muscles made our jobs easier. "Right what's wrong" and "fix what's broke" and "prevent problems" were identifying characteristics that surfaced in our distinctly separate lives.
All bodybuilders connect at some fine place; there's a bond that unites and, after the dispersal of initial hesitations, a brotherhood is evident, whoever they are and whenever and wherever they meet. Sergio and I won large titles one week in New York City and the world famous contest promoter and magazine publisher had set up a photo studio (free over-ripe bananas and tepid bottled water included) on the fifth floor of a grim industrial building in obscure and littered lower Manhattan. Ten of us, all champions, clogged the ancient textile ruins that once hired twelve-year-olds for small change, I guessed, to weave some man's fortune. I somehow sensed history repeating itself with larger, older, better-fed kids the subjects of exploitation, another man's fortune in the making.
"You guys," shouted the choreographer, director, taskmaster, caterer and provider of small change… the big bologna, "listen to me… put on more oil… pump up… don't get dirty from the trash on the floor… watch out for broken glass… no, there's no toilets… Jimmy, be sure you have film in your camera, eh… geez, hurry, you guys, take your pictures so we can go home. I'll send your return-trip airfare when all the pictures come out and you all look great."
Oops. I was the first to flip out and cause enough commotion to stop all activity. Lights, camera, action ceased. I was not… how would you say it?… cool, calm and collected… mature. I was frantic. No airfare meant, "Ha, I tricked you again." In thirty seconds I was dressed in oil-drenched jeans, one shoe on and one off, head sticking through a sleeve hole of my tank top, gagging and clawing for the only remaining century-old, open-shaft elevator in NYC that should be red-tagged by a city safety official. Threats of blood and lawsuits filled the hot, humid and otherwise silent air.
Above the storm, turmoil and hallucinations stood one calm soul… in a pair of bright red posing trunks the size of a band-aid. It was Sergio with a grin and confidence and big arms that pulled me persuasively from the rickety grip of the defunct cargo lift. "Dave, Dave, Dave…" he said, "you can't go. We'll get your money now." "I don't want it," I said like spoiled brat with principals all of a sudden. "It's not worth it, brother. Life's too short," insisted the wise policeman, serving and protecting. "And you can't get in that rusty, broken down, stinky birdcage without me and I'm not dressed for it. Besides, it's safer to jump."
The bad and the ugly and the unnecessary went on for an instant before dissolving in halted laughs and relief. Lights, camera and action… The conflict resolved along with my conclusion that this guy is a peacemaker, ten feet tall and growing. Trust him with my life.
Sergio Oliva Picture Gallery
Sergio Oliva Videos
At Mr.Olympia 1984

Sergio Oliva 1985

pro world cup bodybuilding

Sources: Wikipedia, Youtube and different web-sites

Discuss this on bodybuilding forum

==================
We do not promote the use of anabolic steroids without a doctor's prescription. The information we share is for entertainment purposes only.
THIS IS NOT MEDICAL, LEGAL OR ANY OTHER TYPE OF ADVICE. SIDE EFFECTS ARE UNKNOWN SO THEREFORE DEATH AND SERIOUS BODILY INJURY MAY OCCUR. ONLY USE DRUGS, SUPPLEMENTS, OR EXERCISE UNDER YOUR DOCTORS DIRECTION.
==================
Post Footer automatically generated by Add Post Footer Plugin for wordpress.
Tweet