Interview With Tammy Kemnitz.
11 September 2009
No Comment
Interviewed by Tammy Renee'
I'm very honored to be interviewing our first "Competitor of the Month" in our series of "Promoting Greatness". Tammy did not know before the interview that she has won this award but, she will know once this interview is live!
Tammy Kemnitz holds a NGA Master's Figure Pro-Card. She is originally from the little town of Eldorado, Wisconsin and has been in Texas for about 14 years. By day, she is a Planner in Southwest Airlines Schedule Planning Department and by night, you'll find her in one of two gyms. When she manages to find extra time she loves cooking, fishing, hunting, water sports, anything aviation related and socializing with her friends. On top of that crazy schedule, in August she is getting married so there is a lot of planning for the big day.
WP: It is a great pleasure having you here today, Tammy. I know you just left a competition so, I am happy you could make it. What has been your stepping stone to get where you are today?
TK: Thank you. Weight and health issues within my family were the corner stone for my decision to choose a healthier life style. A year and a half ago I weighed 30 pounds more than I do today. My Dad had several heart attacks at 45 from high cholesterol and my Mom's side of the family has seen an increase in cancer, struggles with weight issues and diabetes. These potential health risks along with the raging feeling within me to stop the train wreck that was becoming my appearance took me to the gym.
WP: It's great that you saw the warning signs and started to get control of your life. What has it been like to maintain your physique? Have you done anything different lately?
TK: I think if you ask anyone the honest answer would be it takes an entire life-style change and maintaining a Figure physique takes constant attention. Your awareness of what you eat has to be in the forefront of your mind all day everyday. You have to plan your meals out, make sure there are healthy options available and always know what you next meal is going to be. The body is very unforgiving and only consistent clean dieting makes the difference between a good shape and a lean competition look.
We have done some experimenting with Carbs this year and I have increased my protein levels with more shakes in addition to my regular food intake. I am definitely becoming more aware of my bodies reaction to minor adjustments in diet.
WP: You are so right. You mentioned competing. Can you tell me a little about that?
TK: Yes, and I am hooked! My very first show was Dave Goodin's Texas Shredder in 2008. With the encouragement of my trainer Bobby, I reached out to Dave to learn more about the Figure Competing arena. I flew to Austin several times before the show to get help and guidance from Dave. After just five months of hard dieting and six months of intense training I stepped out on stage at the Shredder and took home a 5th place in Class B and 3rd in Masters! I was shocked at the transformation I had made.
WP: I adore stories like yours. You're such an inspiration! Are you planning to compete again in the future?
TK: I just finished the 2009 Ronnie Coleman Classic last night, so a lot of the readers can probably relate to how I feel today; beyond exhausted but thrilled to have competed in my largest show yet. Today I am on top of the world with my 4th place Masters Trophy. Don't get me wrong, I would have loved a better placing but I am so proud, given the quality and quantity of athletes that compete as this show.
By the time this is printed I will have completed the 2009 Texas Shredder, so please check out how I did on MySpace. I also plan to do the Texas Lone Star Classic promoted by Prince Harrison in June.
WP: I bet you are on top of the world! Congratulations! You know I will be following you on myspace! What other sports or activities did or do you enjoy?
TK: I have always enjoyed heavy weight lifting. During my freshmen year at Laconia High School in Rosendale, Wisconsin the football coach approached me after volleyball practice and asked if I wanted to join the school's powerlifting team. At that time it was just one other girl, I and the football team. I enjoyed the surge of heavy lifting and we traveled the state going to meets. I won a lot, set a few records at the time and even beat a lot the men at the meets.
WP: Tell me about your family. Also, tell me more about your finance.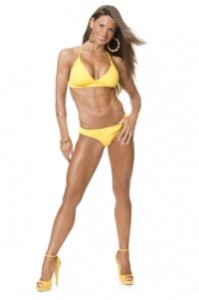 TK: After 41 years of being single I am finally getting married this August to my perfect man, Randy Allen. I am so incredibly blessed to have someone who is so supportive, proud and loving. This sport is tough on a relationship with the dieting, long training hours, crazy contest schedules and not to mention moods and attitudes. He stands by me through it all and is my biggest fan. He makes me laugh through it all. Other than that, no children and I was raised by my two loving parents who are still together after 45+ years.
WP: You sound so happy! What has figure competitions taught you thus far?
TK: It isn't easy or everyone would be doing it, it is very subjective depending on what organization is running the show and above all you need to be committed. This commitment needs to come from one person and that is you. You are the only one that can decide if you are actually going to show up at the gym that night, do that extra cardio even through every muscle hurts, skip happy hour, for go the nachos at the hockey game and swallow those egg whites even though you have already eaten a dozen or more that week. Your family and friends love to see you succeed and enjoy the sport but honestly they would just as soon have you going out to eat with them, spending more spare time with them and in general have a hard time truly understanding why you are crazy enough to make these sacrifices.
WP: What was the hardest thing for you to overcome when you first started?
TK: Understanding what the judges might be looking for. In a lot of sports there are written or very strict rules that apply to scoring. This sport is unique but that is also what makes it interesting. I found the best sources were judge's critiques and the internet. Searching on line for previous contests, looking at the photos of the winners and reading blogs seems very helpful.
WP: There is a lot of supportive information out there. What was the hardest thing you had to deal with when it came to your diet?
TK: Other People! The pressure is crazy some times. "Oh, come on can't you just have one donut….just run a few extra miles tonight." Until you change your eating habits and sterilize your food intake on a long term basis you never really realize the temptation and amount of emphasis people seem to place on food. There are billboards, commercials, smells in the air when you are driving and food jumping out at you from everywhere. Anything can trigger a craving and pressure from other people can magnify it.
WP: You can't even sit down to watch a 30 minute show without seeing food commericals until you're sick! I know what you mean. What are the key factors that dictate the way you train today?
TK: First and foremost is my Trainer, Bobby Carmack. He runs the show and makes all the calls on my training and nutrition. If you are fortunate enough to hire a trainer and get the right one put your faith in them. Bobby has been training since the mid 80's and puts his heart and knowledge into the success of his clients. His dedication to the sport motivates me to stay focused and serious about my competitive goals. His straight forward, honest feedback and constructive criticism keeps me on track.
WP: How has your training changed over the years?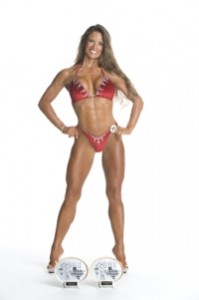 TK: The intensity and session duration are the two biggest changes. We have continued to increase the weights and modify the type of sets we are doing. My workouts have also stretched out to at least an hour and a half to two hours. The longer you train the more you find out exactly what you are capable of enduring to make gains.
WP: What titles/accomplishments have you thus far? Tell me about them.
TK: I placed in three of the four shows I competed in last year:
NPC Texas Shredder – 5th Novice, 3rd Masters
NGA Southern Extravaganza – 2nd Novice, 1st Masters
NGA Masters Figure Pro Card Awarded
NPC Heart of Texas – 3rd Novice , 3rd Masters
Three shows planned this year:
NPC Ronnie Coleman Classic – 4th Masters
NPC Texas Shredder – April 25th
NPC Lone Star – June 6th
Each show is so different from the next but that is what makes it exciting. The promoters really need to be commended for all the hard work in making these happen for us.
WP: Wow! That's a great resume! Where do you see your career and life in 10 years from now?
TK: I haven't set an end date to my competitive career, but I know it won't be ten years. I would like to get involved in the promoting and running of contests to help give back to the sport and still be involved in supporting the competitors.
On the career side, I would love to be involved in the food/restaurant industry. Who doesn't love them some food!
WP: I know I love me some food! Ha-ha! Are you doing any modeling? You're so pretty, I hate to see that wasted! You could be so great for this industry!
TK: I am not doing any modeling at this time, but I would love to. I would also like to get involved on the trade show/product model side and travel to some other shows throughout the country.
WP: You have done modeling before. Can you tell me any photographers you've worked with, or someone you'd like to work with?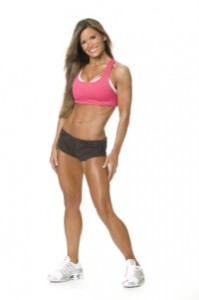 TK: Lisa Brewer was my first shoot and I will be working with her again soon. She is amazing and truly brings out your very best attributes while shooting, not to mention how comfortable she makes you feel during the sessions.
I also plan to shoot with Dan Ray with Muscular Development next week and Jeff Kutscher of San Antonio in early May. I will be posting my new photos on MySpace mid to late May.
WP: Yes! Lisa is outstanding! She's not just a outstanding Photographer but, she's also a great person. I have yet to see a photo that Dan Ray has shot that I didn't like! What supplements do you currently take?
TK: There is a pretty long list that makes up this cocktail:
Green Tea
Glucosmmine & Chondroitin with MSM
Biotin
Chromium Picolinate
Vitamin C Chewables
Flex Seed Oil
Potassium
BCAA
EAS 100% Whey Protein Powder
Syntrax Nectar
ON 100% Casein
Dymatize – Liquid Carnitine 1100
Myogenix Glutamine
WP: I will drink a lot of cocktails but, I think I will pass on that one! Ha-ha! You enjoy! What are your pet peeves?
TK: To be honest, overweight people who tell me that I am going to get sick from eating this way and criticize me for spending so much time at the gym. I have to add one more to this list of peeves. I love to help people improve their health and feel better about themselves, but I found out quickly you can spend hours talking with people about their diets and offering life style changes only to realize later that they really are not ready to commit – meanwhile you spent a lot of time for nothing. I learned a little trick from my trainer on this. If someone asks you to help them with their diet start out by asking them to write down everything they eat for a week and bring it back to you. More than 9 out of 10 times they won't do it and if someone does you might actually have someone you can truly help!
WP: What do you consider to be important in life and why?
TK: My Lord. My Family. My Friends. My Lord has saved me and repeatedly showers me with happiness and blessings. My Family is my life, they love me unconditionally, never let me down and celebrate life's victories with me. My Friends do not make up a crowd but are made of the best quality. I would never second guess them being there for me if I called on them. We love each other, trust each other and take care of each other.
WP: How have you changed over the past few years when it comes to thinking, actions, and life in general?
TK: As far thinking, I feel I have become more passionate and educated about my political, religious and core values. I don't have to be in agreement with everyone on issues, but I find I am less drawn to people who waiver or can't support their view points.
Regarding my actions, I am an organization FREAK. As I have gotten busier and worked on perfecting my physique I have done the same with my other tasks in life. When you need to find time for the gym you need to become proficient at all other aspects of your life. I love my lists!
When it comes to life in general, I worry less about the small stuff and try to take better care of the people who really matter in my life.
WP: What are your stats such as height and weight?
TK: I am 5'3" and like most competitors I have two weights. Training season: 132 lbs. Competition weight: 117 lbs.
WP: Where do you reside now?
TK: I recently moved to Allen, TX which is just North of Dallas. This move has taken me further from my personal trainer. I drive an hour each way three times a week to train with Bobby Carmack at Womack's in Keller, Texas. The other remaining days I train at Metroflex Gym in Plano, Texas.
WP: I love Texas! The people there are just so friendly. Any shout outs?
TK: Absolutely, you cannot do this on your own and there are so many helpful, knowledgeable professionals out there.
First on the list of course is Bobby who is not only my trainer, nutritionalist but one of my best friends. He takes every minute of this personally and is committed to my success as if it were himself competing. I couldn't do this without him, his experience, knowledge and commitment. Next I would like to thank Dave Goodin for giving me the nerve, encouragement and initial posing coaching to get up on that stage. If you don't know Ms. Sheila Brown you need to! She is the perfectionist of stage presence, posing and contest preparation. And last but not least the owners and members of my gyms – especially the gang at Womack's for all the support.
WP: Give me an example of your workout.
TK: I really don't think workouts among competitors vary to an extreme, I think the real line gets drawn in the sand based on how dedicated the person is to the workout and how committed they are to going the extra distance. After all anyone can go to the gym and coast through a workout, you have to focus, not settle for anything but going all the way to failure and making the most of every rep with perfect form.
WP: Give me an example of your diet. What do you normally eat each day?
TK: Breakfast rarely changes: 3-4 eggs whites, plain oatmeal, a banana with cinnamon sprinkled over it. My next three meals of the day usually include chicken or fish over a bed of lettuce, cucumbers, tomatoes, avocado with balsamic vinegar. Other meals include lean steak, shrimp, scallops, baked potatoes and rice. Basic rules of thumb: nothing out of a box or can, no salt added, no bottled seasonings, lots of fruit. I drink at least two shakes a day to get additional protein.
WP: The interview is closing but, before we go, I would like to talk about your future projects. Could you tell me about your future projects?
TK: There are two things I would like to focus on. I really need to search for sponsorship opportunities in order to stay competitive. It boils down to having a new and improved suit and getting more exposure to people and products.
The second thing is getting involved on the volunteer side at the contests that I am not competing in. I think it will help me learn more about the sport and I really want to give back to something that has helped me become a better person.
WP: Keep your goals on your mind and great things can happen. It has been a pleasure interviewing you! I wish you all the best of luck!
Source:worldphysique.com

Discuss this on bodybuilding forum

==================
We do not promote the use of anabolic steroids without a doctor's prescription. The information we share is for entertainment purposes only.
THIS IS NOT MEDICAL, LEGAL OR ANY OTHER TYPE OF ADVICE. SIDE EFFECTS ARE UNKNOWN SO THEREFORE DEATH AND SERIOUS BODILY INJURY MAY OCCUR. ONLY USE DRUGS, SUPPLEMENTS, OR EXERCISE UNDER YOUR DOCTORS DIRECTION.
==================
Post Footer automatically generated by Add Post Footer Plugin for wordpress.
Tweet