Recently www.Hypermuscles.com have added a completly new section to there forum.  VIP.  The vip section is not only new to them, but the features that come along with the section are only found here and at no other Forum on the net.  If that dont interest you, let me bring to your attention just what comes with the VIP section.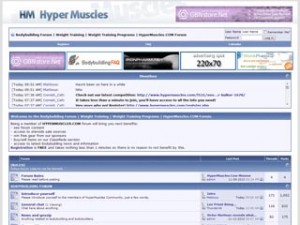 – you have access to 24 hours help; it does not matter what time is it, if something urgent you simply login and ask and get instant answer. No board has this feature!  Not only is this helpful to veteran's,  new users to steroids will beable to ask questions and get the answers that they will need. There is no shortcuts to running steroids, if you get a sideeffect you may need to cure it immedialy and not only that, if you are having trouble injecting, you can be instructed.
Fully packed  you get access to special prices from many sources. you can make money, we  have there a job listing section and you can always find somethign which will suit you, so you can make money doing what you like;  auctions – hot offers. sources reviews no limits, talk about everything. Gear swap section, want to change primo for winstrol or dbol for turanabol, not a problem do it there with people you can trust. Domestic sources. 
When becoming a member of the vip you can come join the forum over at www.HyperMuscles.com here you can check out the forum and members.  Note: just about 2000 members and still growing it is one of the fastest growing communities on the net.   For anyone who would like to pay upfront for VIP access right away, here is a link for you http://www.hypermuscles.com/f132/
And if you would just like to pay immediatly, http://www.hypermuscles.com/payments.php
Come and visit www.hypermuscles.com and see for yourself what users are going crazy over.  Contest are now up and running and just a few days ago they started the first auctions.  Next week they are autctioning off a full cycle complete with pct meds, no i for one will be there to see what kind of cycle it is.  Imagine only bidding 20$ for a 300$ cycle of steroids.  How would you like that.  Come check it out bros.

Discuss this on bodybuilding forum

==================
We do not promote the use of anabolic steroids without a doctor's prescription. The information we share is for entertainment purposes only.
THIS IS NOT MEDICAL, LEGAL OR ANY OTHER TYPE OF ADVICE. SIDE EFFECTS ARE UNKNOWN SO THEREFORE DEATH AND SERIOUS BODILY INJURY MAY OCCUR. ONLY USE DRUGS, SUPPLEMENTS, OR EXERCISE UNDER YOUR DOCTORS DIRECTION.
==================
Post Footer automatically generated by Add Post Footer Plugin for wordpress.
Tweet