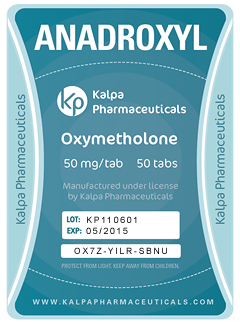 Anadroxyl by Kalpa Pharmaceuticals is an oral steroid with Oxymetholone as the substance buyers look for.
Even Kalpa Pharmaceuticals is a relatively new lab on market it gains more and more popularity and this is due to as they say: "Kalpa Pharmaceuticals specialists maintain personal and professional integrity in all aspects of their work."
Well in business this is important factor so we can't overlook it.
So what about Oxymetholone from Kalpa? This compound is well known for increasing appetite, red blood cell count, strength and as a result weight gain.
Anadroxyl is 17-Alpha-Alkylated steroid, which means it is toxic for your liver.
It is not recommended to take this product longer than 4 weeks and 6 weeks is a maximum. Dosages exceeding 50mg/day are not advised.
Anadroxyl will not be a choice for those who are prompt to gynecomastia so if you are one of those please consider using Dbol but keep Nolvadex or an aromatase inhibitor on hand.
Post Footer automatically generated by Add Post Footer Plugin for wordpress.
Tweet