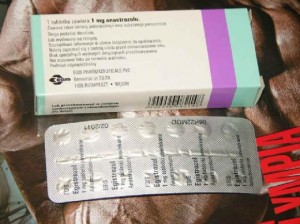 Arimidex is an anti-aromatize drug used while on anabolic/androgenic steroids to help prevent water retention (edema) and Gynecomastia (bitch tits) build up that is a common side effect of using drugs such as synthetic testosterone and androgenic drugs. Arimidex's mechanism of action is by blocking the aromatize enzyme, which will block the production of the hormone estrogen.
This drug is also used for the weeks after your cycle while on a post cycle therapy regimen for the same purpose for using it while on the AAS. Arimidex has a half-life of 3 days, so many will administer it everyday (ED) to every other day (EOD). If it is being used everyday most bodybuilders will use .25mg to 1mg, and if used EOD .5mg to 1mg is the recommended dose. This will vary if you are using other anti-estrogens while using the Arimidex, and also the amount you are willing to use due to the cost of the drug.
Femara has very similar characteristics as Arimidex, but some believe that it is more effective at estrogen control. Most users report no water retention what so ever while using this drug, and in some studies it is shown to slightly raise IGF-1 levels, unlike a drug like Nolvadex, which has been shown to decrease them slightly. The normal dose for Femara is 2.5mg ED to every third day during cycle and also during post cycle recovery periods.

Discuss this on bodybuilding forum

==================
We do not promote the use of anabolic steroids without a doctor's prescription. The information we share is for entertainment purposes only.
THIS IS NOT MEDICAL, LEGAL OR ANY OTHER TYPE OF ADVICE. SIDE EFFECTS ARE UNKNOWN SO THEREFORE DEATH AND SERIOUS BODILY INJURY MAY OCCUR. ONLY USE DRUGS, SUPPLEMENTS, OR EXERCISE UNDER YOUR DOCTORS DIRECTION.
==================
Post Footer automatically generated by Add Post Footer Plugin for wordpress.
Tweet