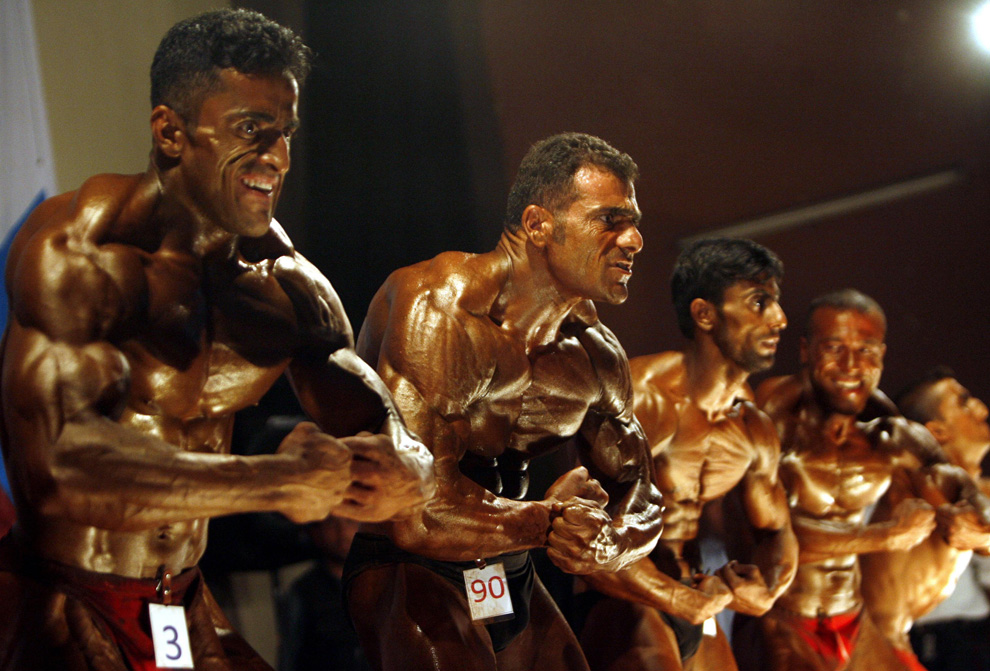 Source: Reuters
By Hamid Shalizi
KABUL, July 23 (Reuters Life!) – Arif Sakhi preened and posed his well-oiled muscles to win the "Mr Afghanistan" crown earlier this year, but behind that perfectly sculpted physique his vital organs were breaking down under the strain of steroid abuse.
Sakhi's death last month at the age of 26 has shaken Afghanistan's body building community and shown it is not beyond the reach of the shady billion-dollar business in legal and illegal supplements.
"Unfortunately using illegal supplements has been seen among our young body builders, but we have no resources to stop it," said Ustaad Bawar Hotak, the head of Afghanistan's Bodybuilding Federation.
"I always tell any sportsmen to use natural products instead of using dangerous supplements that damage their health."
Hotak said there was evidence that both professional and amateur body builders in Afghanistan were using imported illegal supplements banned by the national federation.
But Hotak denied "Mr. Afghanistan's" death was due to using risky supplements, saying Arif Sakhi was poisoned by his rivals — even as fellow body builders said the champion's liver and kidneys had been devastated by steroids.
"Everyone who prepares themselves for a competition uses steroids and other types of injections for their muscle growth," said Haroon, working out at the Kabul Gym.
"I do, he does and almost everyone else does," he said, pointing to other young men working on their physiques in a gym packed with costly workout machines and weights.
The federation says there are over 1,000 gyms in Afghanistan, including at least 200 in the capital, where giant posters of famous musclemen in tiny briefs are a sometimes shocking sight in a society where many women still veil themelves from head to toe in public.
On any given day, Kabul's gyms attract up to 300 men to work out. There are also around 15 women-only gyms drawing around 1,500 members who wouldn't have ventured outside without a male companion during the Taliban's regime, let alone engage in sport. DUBIOUS SUPPLIES
Sport took a back seat in the bloody civil war that followed Soviet occupation in the 1980s, and the hardline Taliban banned most or attached conditions making it impossible to compete.
The country's amateur boxers, for example, were barred from competitions because the bushy beards they were forced to cultivate under the Taliban absorbed punches.
Looking fit and strong is considered a sign of manliness in Afghan society, particularly among ethnic groups with roots in Central Asia. Many young men pay close attention to their appearance and even in the Pashtun south, some Taliban fighters make-up their eyes with traditional kohl.
"Nowadays bodybuilding has turned into a fashion. By looking fit you can earn respect and even girls' attention," said Noor-ul Uda Sherzad, the national trainer.
He said doping was a major problem facing the bodybuilding federation and both professional and amateur bodybuilders in a country where testing system does not even exist.
In Bush Bazaar, named for former President George W. Bush, dozens of shops and stalls sell protein shakes and supplements alongside combat gear and U.S. military clothes that "fell out of a container" on route to U.S. military bases in the country.
"I admit that some of these proteins are not genuine and have been refilled in Pakistan," said shopkeeper Abdul Mateen.
"But these items have regular customers and are cheap," he said, pointing to dozens of packets or bottles of outdated protein, creatine and steroids on the floor of his shop.
Mateen said controllers from the ministry of health rarely visit the market, but illegal bodybuilding supplements were not on their checklist anyway.
Calling the supplements a malign foreign influence, Mohammad Nabi, who trains newcomers at a Kabul gym, said there would always be athletes who sought rewards without effort.
"Nearly everyone who goes to the gym is keen to use this in order to get muscle definition before time," he said.
"(But) some of them can't read or write and they buy expired drugs that can seriously damage their health within months. Why are we killing ourselves by our own hands." (Editing by David Fox) ([email protected]; +93 799 390 693 (If you have a query or comment on this story, send an email to [email protected])
Source: alertnet.org

Discuss this on bodybuilding forum

==================
We do not promote the use of anabolic steroids without a doctor's prescription. The information we share is for entertainment purposes only.
THIS IS NOT MEDICAL, LEGAL OR ANY OTHER TYPE OF ADVICE. SIDE EFFECTS ARE UNKNOWN SO THEREFORE DEATH AND SERIOUS BODILY INJURY MAY OCCUR. ONLY USE DRUGS, SUPPLEMENTS, OR EXERCISE UNDER YOUR DOCTORS DIRECTION.
==================
Post Footer automatically generated by Add Post Footer Plugin for wordpress.
Tweet