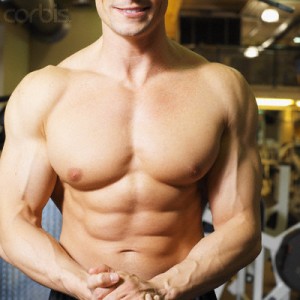 These five exercises are very helpful to build chest muscle.Here are the five exercises.
Dumbbell Flies
Pec Deck Machine
Bench Press
Push Ups
Cable Crossovers
As a man, you want to have a chest that will catch a girl's attention and really make you look like a well-built and healthy man, which is why many men consider chest-building exercises an essential when trying to Build Muscle. Building an impressive chest takes focusing on just a few exercises which follow.

1. Dumbbell Flies

First are the dumbbell flies. You need a bench and dumbbells for this exercise.
Lie flat on the bench with a dumbbell each in your hands and with palms facing each other and the dumbbells on your thighs, raise the dumbbells up one at a time, alternately. At the bottom of the movement, when your chest feels stretching sensations, lower the dumbbells with your arms arching to a point. Then, return to the starting position with the dumbbells over top of your chest.
The purpose here is to squeeze and stretch the chest muscles.

2. Pec Deck Machine

Second, try out the Pec Deck machine. Make sure you have a chair for this workout. Sit on it and grab the handles with your arms in an 'L' shape. Make your arms go together and feel the squeeze at the middle and then relax back to your original position

3. Bench Press

Third, is the flat barbell bench press, a popular exercise among male body builders to Build Muscle.
You will need a workout bench with a barbell and a weight you can handle. Make sure you have a spotter with you to help you and make sure you are safe.
Lie down on the bench and place your hands evenly on the barbell handles above you. Holding it firmly, push it up and down over the rack and down slowly towards your chest, and then push it back up.
Then place it back on the rack once you cannot complete any more reps.

4. Push Ups

Fourth, is another classic exercise known as the weighted push ups.
Many people are very familiar with this wherein a person will use his own body weight to exercise his chest area. Lie down on you front on the floor. Place your palms to the ground to your sides alongside your shoulders and push your body upward away from the floor. After a few seconds, bring your body down again, and this will count as one repetition.
Do eight reps for one set, and three sets of this exercise to adequately work your chest area out for stronger muscles.

5. Cable Crossovers

Fifth are the cable cross overs. For this exercise to Build Muscle have a pulley machine handy. Grab the handles of the pulleys at the high position and bring them down until your body looks like a 'T'. With a straight back, lean down and forward at the hip. At this position bring arms down and together in front of you until they touch. You should feel the squeeze in our chest, and then bring it back up to the original position.
There are many other exercises you can try to build chest muscles, but these are just a few that are highly effective. Do these exercises at least every other day for good measure and to get you on your way to Build Muscle for building a stronger and bigger chest.

Discuss this on bodybuilding forum

==================
We do not promote the use of anabolic steroids without a doctor's prescription. The information we share is for entertainment purposes only.
THIS IS NOT MEDICAL, LEGAL OR ANY OTHER TYPE OF ADVICE. SIDE EFFECTS ARE UNKNOWN SO THEREFORE DEATH AND SERIOUS BODILY INJURY MAY OCCUR. ONLY USE DRUGS, SUPPLEMENTS, OR EXERCISE UNDER YOUR DOCTORS DIRECTION.
==================
Post Footer automatically generated by Add Post Footer Plugin for wordpress.
Tweet