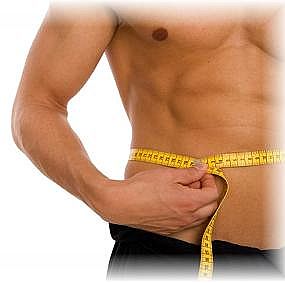 I am not a doctor nor am i an expert of any sort.  But when it comes to dieting i have seen some work and some not work.  But i also seen one work extremly fast.  If you are down to the last minute and you need a drastic change, then this is will help you and it will work.   Taking a steroid, such as Testosterone will help maintain muscle mass if you are worried about loosing muscle.  If you are not worried about the loss of muscle then there is no need to take a steroid with this diet. 
There is no fancy name for this diet, its just very calorie restricted.  After about 3 to 7 days on it, you will not care about eating candy, sugars nor breads.  You will have control over your whole body. 
The diet.
1 or 2 gallons of water daily.   Water is very important, it carry nutrients to your muscles and body and will flush fat out of your system.  Not only that it will take any bloat away.
2 soups.  I like cambells vegetable soup the little cans.  These are about 2 servings per can meaning there is about 200 calories to a can.  You will want to eat 5 to 6 cans a day.  If you want and that can be the diet.  Or you have 1 protein shake when you wake up.  Then your next 2 meals will be a can of soup.  For lunch or dinner, Chicken breast plain nothing on it.  And then another can or 2 of soup.    Yes this diet will be very high in cholestoral, but you can drain the soups and of course make sure you take in alot of water.  A month on this diet will not cause you problems. 
This diet is not for use over an extended period of time.  I would cycle the diet like you would cycle steroids or supplements. Use it for a month or two months, then get off it and diet and workout for 2 months.  Then go back on it.  You will notice a major drop on body fat, everything will fit you better and you will be really happy.  You will have complete control over your appetite and what you eat.  That means you will be the one to say yes or no to what you put onto your plate.  
Adding a multi vitamin i would recomend along with amino acids aswell. Remember to drink that water, and sleep.
If you are going to exercise this is wht i suggest.  When you wake up first thing in the morning take a walk or jump on a treadmill and just walk.  Walk for 30 to 45 minutes can burn off over 200 calories.  Then go on with your diet threw out the rest of the day.  I suggest walking in the morning because in the morning your body will burn and eat away at your fat, rather then muscle.
To find out more about other diets and lifestyle changes, visit www.hypermuscles.com here you can find all the info you need on diets and exercise along with talking to other members and people looking to acheive a better body and lifestyle.

Discuss this on bodybuilding forum

==================
We do not promote the use of anabolic steroids without a doctor's prescription. The information we share is for entertainment purposes only.
THIS IS NOT MEDICAL, LEGAL OR ANY OTHER TYPE OF ADVICE. SIDE EFFECTS ARE UNKNOWN SO THEREFORE DEATH AND SERIOUS BODILY INJURY MAY OCCUR. ONLY USE DRUGS, SUPPLEMENTS, OR EXERCISE UNDER YOUR DOCTORS DIRECTION.
==================
Post Footer automatically generated by Add Post Footer Plugin for wordpress.
Tweet