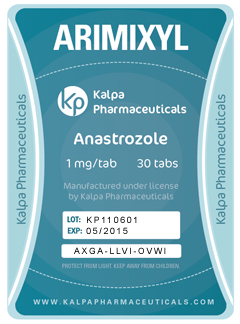 Pharmaceutical Form
Drug Class: Aromatase Inhibitor
Active Life: 48 hours
Average Dose: 0.25 – 1.0 mg/day
Liver Toxicity:
Aromatization rate:
DHT Conversion:
Decrease HPTA function:
Anabolic/ Androgenic rate:
Active Substance: Anastrozole 1mg/tab
Arimixyl by Kalpa Pharmaceuticals with its active substances Anastrozole represents an aromatase inhibitor and is used to prevent estrogenic side-effects of some steroids.
Arimixyl usage is appropriate when using substantial amounts of aromatizing steroids, or when one is prone to gynecomastia and using moderate amounts of such steroids.
Arimixyl works simple – it blocks conversion of aromatizible steroids to estrogen. Arimixyl is in a class of medications called nonsteroidal aromatase inhibitors. It works by decreasing the amount of estrogen the body makes. This can slow or stop the growth of many types of breast cancer cells that need estrogen to grow.
Feel free to visit official Kalpa web site, click here.
Post Footer automatically generated by Add Post Footer Plugin for wordpress.
Tweet