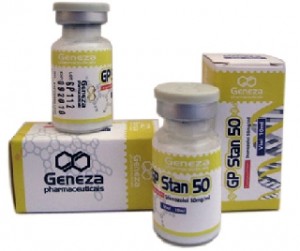 Geneza Pharmaceuticals is a relatively new company on the market but in short period of time their products conquered hearts of many athletes and this due to quality and the wide range of products they manufacture.
GP Stan 50 by Geneza Pharmaceuticals is an injectable steroid which contains 50mg per 1ml of stanozolol suspended in water.
GP Stan 50 (stanozolol) – another very popular and safe steroid.
GP Stan 50 (stanozolol) –In 1990 Shawn Ray was positively tested for this drug at Arnold Classic.
GP Stan 50 (stanozolol) is used for cutting cycle by those who are looking for "hard ripped look".
GP Stan 50 (stanozolol) is 17aa and can have impact on your liver so LIV 52 is advised as with all 17 aa steroids.
GP Stan 50 (stanozolol) will provide slowly gains but only with qualitative muscles most of them will remain after cycle is done. Not recommended to take it for more than 8 weeks.
This profile was created by MusclesProd, if you want to use it on your site it is mandatory to indicate musclesprod.com as the source.
Post Footer automatically generated by Add Post Footer Plugin for wordpress.
Tweet