Frank Zane,biography,pictures and videos
11 February 2010
2 Comments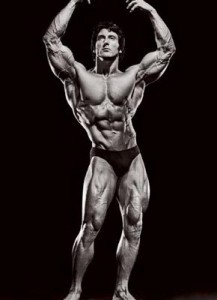 Frank Zane (born June 28, 1942 in Kingston, Pennsylvania) is an American former professional bodybuilder and teacher.
Education
Zane received a B.S. (Bachelor of Science degree) in Education from Wilkes University in Wilkes Barre, Pennsylvania in 1964. For 13 years, he taught mathematics and chemistry while living in Florida and California. Later he earned a B.A. (Bachelor of Arts degree) in psychology from Cal State LA in 1977. Finally, he was awarded a Master's degree in Experimental Psychology from Cal State SB, California in 1990.
Bodybuilding career
Zane is a three-time Mr. Olympia (1977 to 1979). His reign represented a shift of emphasis from mass to aesthetics. Zane's proportionate physique featured the second thinnest waistline of all the Mr. Olympias (after Sergio Oliva),with his wide shoulders making for a distinctive V-taper. He stood at 5'9″ and had a competition weight of 187-195 pounds when he won Mr Olympia (He weighed over 200 lbs when he competed in the 60s). Zane is one of only three people who have beaten Arnold Schwarzenegger in a bodybuilding contest (1968 Mr Universe in Miami, FL) and one of the very few Mr. Olympia winners under 200 pounds. Overall, he competed for over 20 years (retiring after the 1983 Mr Olympia contest) and won Mr America, Mr Universe, Mr World and Mr Olympia throughout his illustrious career.
He has written many courses and books about bodybuilding. In 1994, Zane was inducted into the 1st annual Joe Weider Hall of Fame. He received the Arnold Schwarzenegger lifetime achievement award at the 2003 Arnold Classic for his dedication and long-time support of the sport. He was given the nickname "The Chemist" due to his Bachelor of Science degree and, as he puts it: "Back in the day I took a lot of supplements and tons of amino acids. Still do. But back then it was pretty unusual. That's how I got the nickname The Chemist." There was also a perception that his nickname was given because he was very scientific in reaching his peak on the exact day of competition, year after year.
In 1985, Frank and his wife Christine owned and operated Zane Haven in Palm Springs, CA where they successfully conducted one-on-one sessions with clients who wish to possess a symmetrical physique. Zane's own bodybuilding formula was B=EARN (Total Bodybuilding = Exercise x Attitude x Rest x Nutrition)and this has always been emphasized to every single client since he began this center. Today, the Zanes live in San Diego, CA and his learning center is now called Zane Experience.
In 2005, Frank Zane played the IFBB Announcer and worked as the consulting producer in the movie "See Arnold Run." As of 2006, Zane currently runs his own website, appears at seminars and book signings, and offers personal weightlifting sessions with his program called "The Zane Experience" in San Diego. He is still in fantastic shape today, at age 67.
Bodybuilding titles
* 1961 Mr. Pennsylvania (17th place)
* 1962 Mr. Keystone (Winner)
* 1963 Mr. Keystone 2nd
* 1965 Mr. Sunshine State (Winner)
* 1965 IFBB Mr. Universe (1st, Medium Height category)
* 1966 IFBB Mr. America (1st, Medium)
* 1967 IFBB Mr. America (1st, Medium)
* 1967 IFBB Mr. Universe (3rd, Tall)
* 1968 IFBB Mr. America (Winner)
* 1968 IFBB Mr. Universe (Winner)
* 1970 NABBA Mr. Universe (Winner)
* 1971 NABBA Pro Mr. Universe (1st, Short)
* 1972 NABBA Pro Mr. Universe (Winner)
* 1972 IFBBMr. Olympia (Under 200 lbs, 4th)
* 1973 – did not compete (retired)
* 1974 IFBB Mr. Olympia (Under 200 lbs, 2nd)
* 1975 IFBB Mr. Olympia (did not place)
* 1976 IFBB Mr. Olympia (2nd overall)
* 1977 IFBB Mr. Olympia (Winner)
* 1978 IFBB Mr. Olympia (Winner)
* 1979 IFBB Mr. Olympia (Winner; perhaps the greatest shape of his career)
* 1980 IFBB Mr. Olympia (3rd, after suffering a near-fatal injury at his home, requiring lengthy hospitalization)
* 1981 – did not compete (boycotted the Mr Olympia contest after the controversial 1980 contest)
* 1982 IFBB Mr. Olympia (2nd)
* 1983 IFBB Mr. Olympia (4th, after suffering another accident on his bicycle, requiring extensive shoulder surgery shortly after the contest)
Competitive stats
* Height: 5'9″ (175 cm)
* Contest weight: 180s/190s lbs (82 kg)
* Off-season weight: about the same
* Arms: 18″
* Neck: 17.5″
* Chest: 50″
* Waist: 29″
* Thighs: 26″
* Calves: 16.5″
Books by Frank Zane
* The Zane Way to a Beautiful Body (1979)
* Super Bodies in 12 Weeks (1982)
* Zane Nutrition (1986)
* Fabulously Fit Forever (1992)
* Fabulously Fit Forever Expanded (1996)
* Frank Zane: Mind, Body, Spirit (1997)
* Frank Zane Training Manual (2005)
* The High Def Handbook (2008)
* The Mind In Bodybuilding (2009)
* Since 1998, Frank Zane has written a newsletter (published four times a year) entitled Frank Zane Newsletter, that provides the latest information in all aspects of bodybuilding and to also promote the aesthetic physique.
PHOTO GALLERY WITH FRANK ZANE
VIDEOS WITH FRANK ZANE
Bodybuilder Frank Zane – Mr Olympia posing
Train with Zane – Frank Zane
Frank Zane 1980
Kevin Levrone, Shawn Ray and Frank Zane doing some legwork

Discuss this on bodybuilding forum

==================
We do not promote the use of anabolic steroids without a doctor's prescription. The information we share is for entertainment purposes only.
THIS IS NOT MEDICAL, LEGAL OR ANY OTHER TYPE OF ADVICE. SIDE EFFECTS ARE UNKNOWN SO THEREFORE DEATH AND SERIOUS BODILY INJURY MAY OCCUR. ONLY USE DRUGS, SUPPLEMENTS, OR EXERCISE UNDER YOUR DOCTORS DIRECTION.
==================
Post Footer automatically generated by Add Post Footer Plugin for wordpress.
Tweet