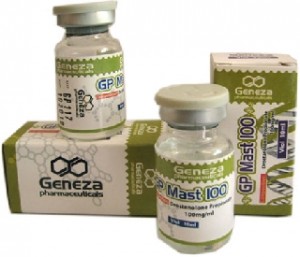 Geneza Pharmaceuticals is a relatively new company on the market but in short period of time their products conquered hearts of many athletes and this due to quality and the wide range of products they manufacture.
GP Mast 100 by Geneza Pharmaceuticals is an injectable steroid which contains 100mg per 1ml of Drostanolone Propionate.
GP Mast 100 (Drostanolone Propionate) – is a popular product among competitive bodybuilders because of its capacity to produce "hard look" and fat-loss. The structure of GP Mast 100 is a derivative of dihydrotestosterone, most specifically 2alpha-methyldihydrotestosterone which explains why it will not aromatize to estrogen.
Another important moment is that GP Mast 100 (Drostanolone Propionate) will not cause water retention and gynecomastia.
GP Mast 100 (Drostanolone Propionate) is used by many bodybuilders in cutting phase and if combined with correct training and diet user will achieve that great ripped look.

This profile was created by MusclesProd, if you want to use it on your site it is mandatory to use musclesprod.com as the source.
Post Footer automatically generated by Add Post Footer Plugin for wordpress.
Tweet