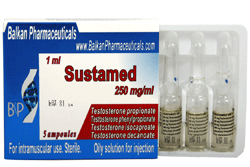 Active Substance: Testosterone propionate 30 mg/ml, Testosterone phenylpropionate 60 mg/ml, Testosterone isocaproate 60 mg/ml,Testosterone decanoate 100mg/ml
Sustamed is composed from four esters of testosterone (propionate, phenylpropionate, isocaproate and decanoate). These esters of testosterone have different absorption speed and elimination.
It is used for men in treatment of androgenic deficit after castration, eunuchoidism, hypopituitarism, hormonic impotency, some forms of sterility with spermatogenesis problem, osteoporosis caused by androgenic insufficiency.
For women Sustamed is used in treatment of hyperestrogenemia, endometriosis, mammary cancer, osteoporosis.
Presentation:
Injectable oily solution 125mg/ml
Injectable oily solution 250mg/ml
Post Footer automatically generated by Add Post Footer Plugin for wordpress.
Tweet